Victoria and Christopher Owen on Creativity and Kids
The power duo talk pork buns, an awkward proposal and the impending arrival of their first child
"We had a boozy dinner on the beach for New Year's Eve and I guess I was the last one left, and she pounced," says Christopher Owen of the night in Myanmar in 2009 when he and Victoria Tang first kissed. The celebration had been organised by Ivan Pun, Christopher's best friend from his Oxford University days and a childhood friend of Victoria's from Hong Kong.
"It was tricky to get Chris to kiss me at first," recalls Victoria, the daughter of journalist, entrepreneur and bon vivant David Tang, best known for founding Shanghai Tang (which he sold in 2006), the China Club and China Tang, and his first wife, Susanna Cheung.
"He was very cool and didn't talk much; he just observed." With her eyes set on the brooding Christopher, she decided to have some fun: "I said, 'Oh, I dropped my earring in the sand. Can you help me find it?' And then I got him under the dinner table and just kind of went for it."
Seven years on, as we chat in the Wong Chuk Hang office of Thirty30 Creative, the business they started together just 14 months ago, it's evident they continue to share the same playfulness. "I asked Ivan after that holiday whether he thought there was any mileage in this one, and he said probably not," chuckles Christopher, who was studying at law school in London at the time.
"I asked him the same," cries Victoria, who was also living in London, working for the womenswear brand Issa after completing a graphic design degree at Central St Martins. "He told me you probably weren't right for me." Are their personalities very different, I ask. "So different," they exclaim in unison.
See also: Behind-the-Scenes with Victoria and Christopher Owen, our February Cover Stars
Ivan was not the only friend to voice concerns about the match. When, after two years of dating, they both moved to Hong Kong in 2012 (Victoria to develop a lifestyle brand with her father and Christopher to take a secondment with his law firm), they found several of Victoria's friends slow to accept the relationship.
"It was a bit like, 'Who's this guy from London?'" remembers Christopher. "They're not judgmental people, but it took a little while for them to see how the relationship would work. They were protective of Vic."
Defying the naysayers, the couple remained steadfast. In December 2013 Christopher organised a trip to Japan to celebrate Victoria's birthday—and to ask her to marry him. However, the proposal was a little more fraught than he expected.
"The whole scenario is us in a nutshell," says Christopher of the morning he spent trying to coax Victoria into Saiho-ji, a beautiful temple and moss garden in Kyoto where he'd secured, with great difficulty, a scarce time slot to visit and make his proposal.
"This place is only open for an hour and a half in the morning and Vic, who had not visited Japan since she lived there in her teens, decided she had to stop en route at a 7-Eleven for one of these pork cutlet buns she hadn't had since she was last there. We only just made it to the garden in time for our slot—Vic with this 7-Eleven microwaveable pork cutlet bun in a little bag—and just as we were about to take our seats [for a wishing ceremony], she spied a gift shop and wandered off. Typical!"
Victoria was oblivious to his concerns. "He was getting so antsy. I just didn't get it," she laughs. They eventually made it to the ceremony, where they were asked to write their wishes on a wooden block. Christopher wrote, "To spend the rest of my life with the woman I love," while Victoria—unaware of the momentousness of the occasion—had written, "World peace."
Afterwards, Christopher beckoned her to join him in a cabin in the garden adjacent to a heart-shaped lake. "I walked in," says Victoria, "and it was pitch dark inside, and I saw the ring shining before I saw him and I squealed, 'Ooh! Yes!' and he was like, 'Can you just let me finish?'"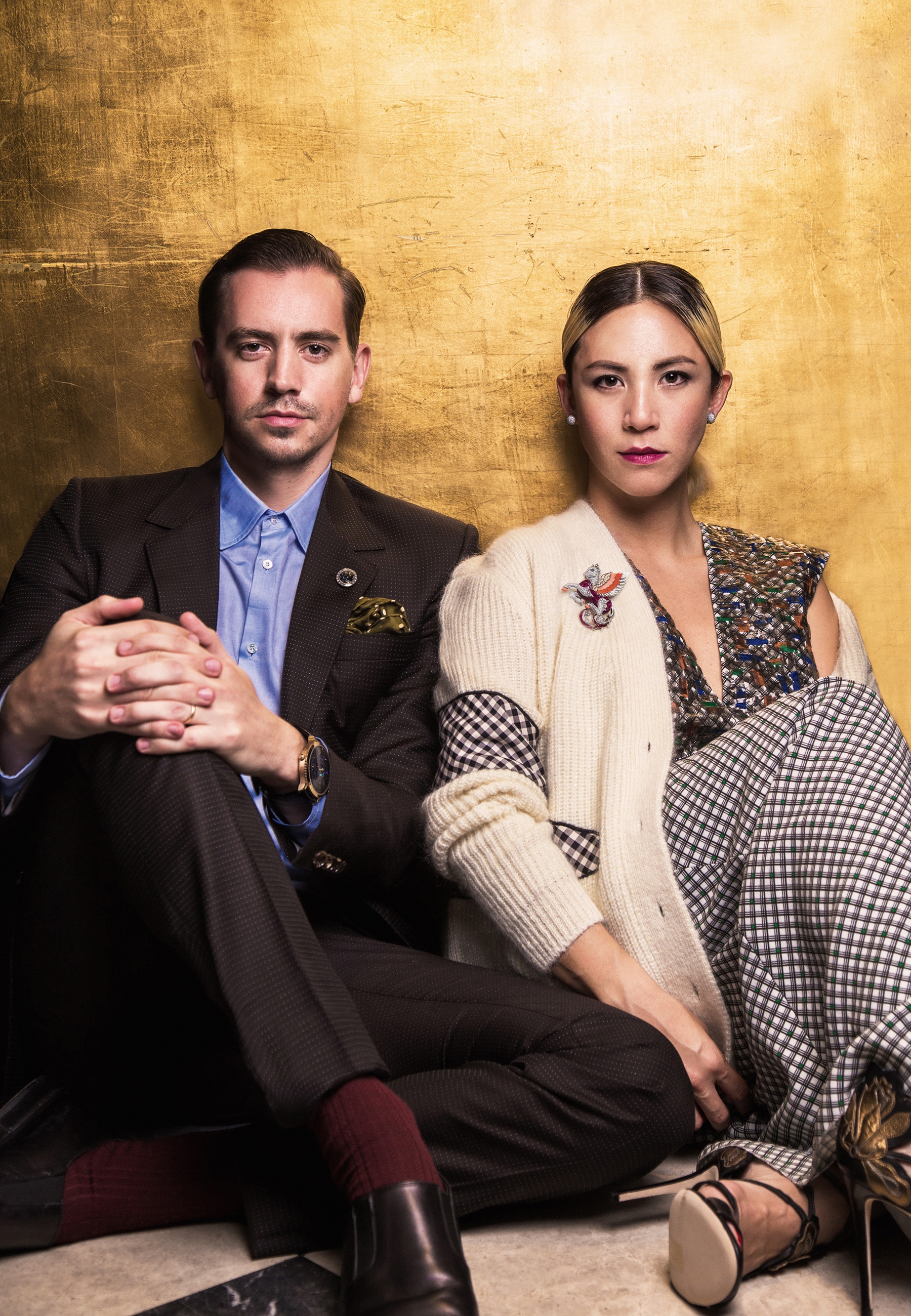 A year later they were married in Beijing, where Victoria's parents had wed 30 years earlier. The couple, without the help of a wedding planner, organised 160 guests to fly in from the UK, the US and Hong Kong for a ceremony in St Michael's, a small gothic church near Tiananmen Square, followed by a reception at the China Club, the private member's club founded by David in 1995 in the Xidan district.
"I was so stressed in the lead-up that I almost called off the wedding," says Victoria, who suffers from the perfectionism common among creatives. And yet aside from a priest who struggled with spoken English—"he bungled his way through the ceremony in the most endearing and hilarious way. He pronounced our names wrong and accidentally repeated hymns. Everyone was crying laughing," she remembers—everything went off without a hitch.
Two years on and the couple are expecting their first child in May—but it hasn't been quick enough for some in the community. "Every local tabloid picture from the last two years has said, 'Still don't have children,'" notes Christopher.
"Or they say, 'Has she gained weight?' 'Is she pregnant?'" says Victoria. The delay in starting a family was intentional, as Victoria and Christopher wanted to embark on a professional adventure together before having children.
"We had both hit 30 and we thought, this is our life moment," says Christopher of their decision at the end of 2015 to leave their jobs and launch their creative agency. Christopher had been doubting whether he wanted to be a lawyer for the rest of his life—"I just wasn't sure that I wasn't going to climb that ladder and get to the top and think, hang on, this isn't a view I wanted."
See also: Perfect Pair: The Best Couple Watches to Wear Together
And Victoria, then the creative director of Tang Tang Tang Tang, the lifestyle company she founded with her father in 2013, was constantly being asked by friends to work with them on projects. "Age-wise, career-wise and family-wise, it was a point in time where we had the option to take a risk, so we did. It was a now-or-never moment," she says.
And boy have they been busy. In a little more than a year and with just a small team, Thirty30 Creative has completed more than 70 projects (ranging from invitations, stationery and retail packaging to advertising campaigns and corporate identities) for dozens of clients, including Tod's, Max Mara, Joyce and Lane Crawford. "Hong Kong is a small and supportive community," says Christopher.
"Seventy-five per cent of our clients in the first year have been people we know." Their first commission was to design and print invitations and welcome packs for another New Year party hosted by Ivan in Myanmar, this time at the end of 2015.
"We did this really cool design. Vic worked really hard on it," says Christopher, "and we managed to get the welcome pack shipped to Myanmar with just a day to spare. It was the first thing people saw and they really loved it. Ivan's been very supportive of us."
The welcome packs, images of which flooded Instagram around the time of the party, earned Thirty30 Creative several more commissions. "I think people are getting bored with e-invites," says Victoria, a self-confessed paper fanatic. "In Hong Kong, most of the invitations you get are just a bit of laminated card that you throw away. We want to add a little bit extra so that people keep them."
This desire to create meaningful, beautifully designed products motivated Victoria during her four years at Tang Tang Tang Tang, first as a designer and then creative director. The store, which was in the Pawn building in Wan Chai, recently closed and is searching for new premises, but its products—lifestyle goods and homewares with a China connection designed to appeal to the country's youthful rich—can still be bought online.
Victoria's role, which encompassed marketing, sales, interiors, designing and even occasionally working the till, provided great training for starting her own business. "I saw the opportunity to learn something from my father," she says, but working with David was at times challenging. "He was definitely tough on me," she says, "but that's his way of showing he cares."
Aesthetics and creativity were topics of discussion Victoria was accustomed to from childhood. "Dad would always say, 'Do you like that?' or, 'Why do you not like it?' We always had arguments in the family over whether things were crap or beautiful, whether they were art or not. And we are all very stubborn individuals. I think I am the soft one, don't you?" she says, turning to Christopher.
"The softest of a hard bunch," he quips. "They argue hard," says Christopher of the Tangs, "and then two seconds later talk as though nothing has happened. I didn't grow up like that."
See also: 5 Luxury Date Ideas for an Unforgettable Valentine's
As partners in marriage and business, and on the social circuit—"we are always together," laughs Victoria—the couple can't afford a disagreement to last for long. "When it's a creative issue, I'm supposed to get the final say," says Victoria. "But he's a lawyer and he can argue his way in. Sometimes it's really annoying, but I don't want to fight; I just want to resolve it."
From the way they champion one another in conversation and finish each other's sentences, mutual respect and adoration are evident. "All successful businesses are partnerships, just as marriages are," says Christopher. "And I'm sure that when we have a baby, we will work out who's good at what and allocate accordingly."
For now, the couple are entirely focused on the impending addition to their family, whose sex they have chosen to keep a surprise. In the longer term, however, they are plotting a move back to London, where they intend to open their second Thirty30 office.
"The Hong Kong bubble is great and it has served us amazingly, but we want to move on to something bigger," says Christopher. Victoria chimes in: "I miss the amazing museums and the outdoor culture in London. Going to the countryside, having a sandwich in a park in summer."
Judging by their achievements thus far, any aims this dynamic duo have will be realised. "Seven years on and we're still going strong," says Christopher. "Two countries, one marriage, one business, one child on the way. So far it's all gone to plan." And as for the next stage, "It will be an adventure," says Victoria excitedly.
This article was published in the February 2017 issue of Hong Kong Tatler.