The prestigious Longines Hong Kong Masters returns for its third edition next month, a highlight on both sporting and social calendars, comprising a mixture of equestrian sport, fashion, fine dining, and art. Moreover, top local rider Raena Leung has been selected to represent Hong Kong, competing against world-class riders at the largest in-door show jumping event in the region.
Some of Leung's biggest achievements to date has been winning the World Cup title at the 2012 FEI World Cup Jumping China League, along with participating in the 2013 FEI World Cup Finals in Gothenburg. She was the first Hong Kong rider to qualify for the FEI World Cup Final and the FEI World Equestrian Games. Perhaps her cool, calm demeanour is her secret weapon considering she only dreamt of such achievements a mere three years earlier. 2012 was her breakthrough year, under the guidance of her current trainer; Mike Patrick Leichle who helped Leung secure multiple international placings at a five-star level.
"I've put so much time, and blood, sweat, and tears into this, that if I ever stopped, I would regret it" she says, "I've put in this much effort, and I want to continue, and things are going well. I think it's really important to surround yourself with the right people" Leung's bond with her trainer and horses combined with her passion and competitive nature has no doubt contributed to her success to date.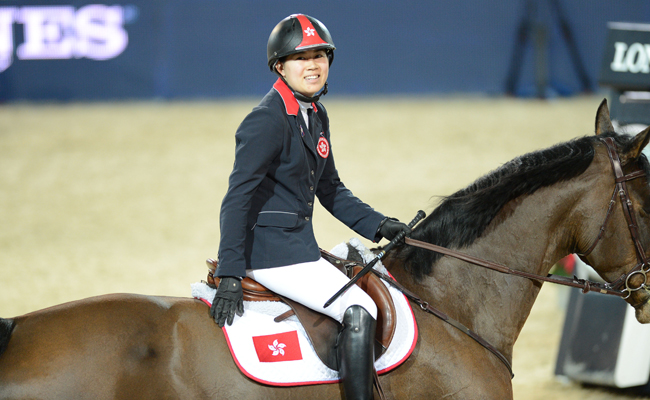 "With the Masters coming, it's created a lot of exposure; for me to come and jump at such a high-level show," she says. "It's all thanks to EEM for bringing the show to Hong Kong, giving some of the home riders a chance to come and jump alongside the top 25 in the world." The experience is somewhat surreal, Leung admits; yet, she's optimistic that Hong Kong has a lot of potential and growing talent who could follow in her footsteps with the right management and training.
However, she is quick to point out that it wasn't always an easy ride. "I think no matter what you do, there will be low points. You just need to have the right people to push you," she says. "You've got to keep going." Leung's proactive attitude is an asset that feeds her resilience and winning streak, something that she hopes to pass on to other young riders. "I hope its comforting for them to know that if I can manage to get this far then its also possible for them," she says. "I never imagined I could jump at the world championships, but it happened. It can happen for anybody.
Leung is well aware that her winning streak and success will not last forever, yet she is adamant to have a career tied to horses and equestrianism. When she is quizzed about her plans for the future, she talks of the Olympic qualifiers – no small feat for any rider, yet Leung has set the bar high for Hong Kong riders, and it's clear she does not intend on slowing down anytime soon. "As long as you keep going, keep pursuing your passion, I believe anything is obtainable."
The Longines Hong Kong Masters 2015
Date: February 13 to 15, 2015
Venue: Asia World Expo, Hong Kong International Airport, Lantau
For more information on the Longines Hong Kong Masters 2015, please click here
You might also like: