Being Sean Lee-Davies is a balancing act. On one hand there is Sean the urbane bachelor about town—a TV personality, a couture-clad ambassador for luxury watchmakers and a staple at exclusive soirees. Then there's Sean the environmental activist—a nature-loving vegan tormented by, and determined to temper, humankind's rapacious exploitation of the natural environment. How does he reconcile these disparate selves? "I'm still trying to work that out," says the 37-year-old. "I'm trying to straddle both worlds and find a kind of middle ground."
With a face for TV, a physique for designer suits and a network of high-society heavy hitters, it doesn't take much to see how the son of Olivia Lee-Davies fell into a career in commercial media. Sean began his professional life at independent film companies in London before joining Columbia Pictures in Hong Kong and working on the marketing of such blockbuster franchises as Charlie's Angels and Terminator.
He soon moved into the world of magazines where, as an editor and photographer, he covered all things fashion and luxury lifestyle. For a while he served as the director of editorial and photography at Edipresse Media Asia, which publishes Hong Kong Tatler. In 2011 he founded Awethentic Studio, a production house specialising in branded content, television and film, and he has since produced and hosted shows all over Asia, including two seasons of the TVB series Tycoon Talk. Sean has also produced and appeared in campaigns for IWC Schaffhausen, Cartier and Louis Vuitton.
As he's grown his commercial profile, however, he has also developed a keen interest in the environment. In 2011, Sean founded Project C:Change, a non-profit organisation that raises awareness about environmental degradation, climate change and conservation via art, photography and film. The funds generated by his multimedia projects go to charities trying to protect animals and ecosystems from poaching, overfishing, habitat loss and possible extinction. In its quest to publicise environmental transgressions, Project C:Change regularly engages Sean's cohort of celebrity friends and influencers.
Conservation is fast becoming Sean's raison d'être. Over the past few years he has travelled to places of great natural wonder—the plains of Africa, the rainforests of Indonesia, and the waters of Sri Lanka, the Philippines and the Solomon Islands—to survey and document life under threat. These expeditions formed the basis for Adventures to the Edge, an David Attenborough meets Bear Grylls-style TV series now in its second season on TVB. Sean also showcased the photographs from these trips in an exhibition called Love is Wild late last year. The images, which were auctioned for charity, featured celebrity models Mia Kang, Jennifer Tse and Mikki Yao interacting with endangered species such as orangutans, elephants and whale sharks.
His efforts aren't limited to what he can do with his camera, though. In November last year, Sean spearheaded a protest calling for the banning of the ivory trade in Hong Kong. More than 50 participants, including a Maasai warrior who had flown in for the occasion, marched down Hollywood Road demanding that the government help stop the slaughter of elephants. Early this year, in what was a huge win for environmentalists, the Hong Kong government pledged to ban the trade in ivory within five years.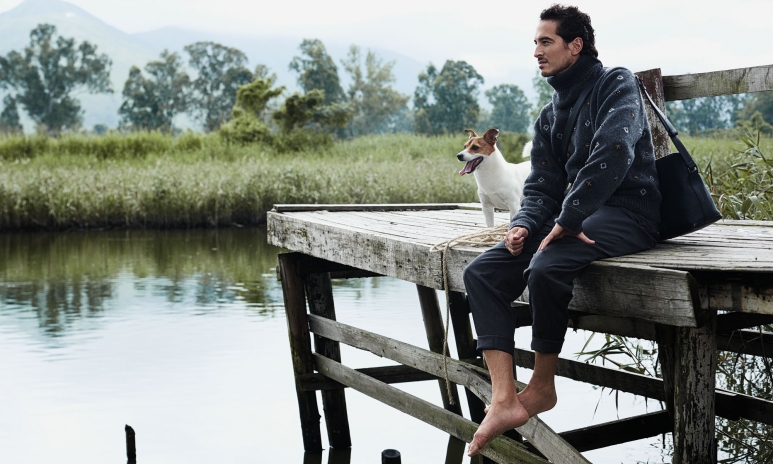 Next month Sean plans once again to bring his message of conservation to the streets—specifically, the streets of Sheung Wan and Sai Ying Pun, which are hubs for the sale of shark fin, ivory and rhino horn. An initiative involving street art will illustrate the crises facing endangered wildlife. Project C:Change is also co-organising a charity ball on November 10 to raise funds for the Jane Goodall Institute, The Elephant Society and African charities such as the Big Life Foundation, which fights poaching. Simultaneously, Sean is working on an investigative documentary about the mistreatment and slaughter of racehorses.
Sean's preoccupation with environmental woes began when he returned to Hong Kong in 2005. "Seeing all the pollution here, then travelling around China and witnessing the rampant consumption and destruction of the environment there, really made me angry. I thought, 'This is not how things should be,'" says the Eton old boy, who also went to university in the UK. "Hong Kong is one of the most wasteful societies in Asia, if not the planet. We have a tremendous problem with waste, recycling, water consumption. Unfortunately, Hong Kong was the beacon of affluence for China in the '80s and '90s so everyone came here and wanted to adopt our forms of consumption. But Hong Kong has a value more than just this; we have to be an example to the rest of China."
Last year, the average atmospheric concentration of PM2.5 (tiny, deadly particles emitted by vehicles and industry) in the busiest parts of Central and Causeway Bay was around five times higher than the World Health Organisation's upper limit, according to Civic Exchange. Furthermore, thanks to years of apathy regarding waste, Hong Kong's landfills are going to be full by 2019. Why, when world cities like Tokyo, Taipei, London and New York have managed to significantly curb air pollution and waste in the past two decades, has Hong Kong made pitifully little progress? "Because people here are cut off from nature," says Sean. "In Hong Kong you can live in the human sphere without touching nature. Making money is still everyone's focus, although very slowly people are becoming more conscious of health and nutrition. They are beginning to realise, for example, that bad food equals bad health."
Sean produced a documentary for the National Geographic Channel in 2010 about teens living with cancer, examining the environmental factors that could have caused their illness. It's a subject that fascinates him. "Cancer rates have skyrocketed but when a patient goes to a doctor, he or she is not told what caused their cancer; they're just told that the symptoms need to be treated. Everyone should read a book called The China Study, which charts the exponential growth of cancer with the increased consumption of dairy products and meat in mainland Chinese diets.
"Why is meat giving us cancer, you wonder? Once you start looking into commercial and industrial farming practices—at the masses of hormones and chemicals used in the rearing of these animals—you start to understand why humans are getting sicker. We're poisoning the oceans, too, with chemicals and millions of tonnes of plastic. The plastic we see floating in the ocean doesn't disappear; it gets ground down into tiny particles which are then absorbed by the fish that we eat."
The proliferation of plastic waste is hot on Sean's radar right now. "Plastic has become endemic in our lives because it's convenient, but we need to wake up to the fact that convenience does not equal smart. Anything that's convenient for humans generally means the sacrifice of an environmental standard." While filming the most recent two episodes of Adventures to the Edge, Sean went diving with manta rays and turtles in the Arnavon Islands, a protected marine sanctuary in the Solomon islands. "We were thousands of miles from anywhere and yet on these beaches was plastic debris of all kinds—trainers, six-pack rings, water bottles, all of which had floated in from badly managed trash sites elsewhere in Asia."
One of the key objectives of Project C:Change is to connect people in Asia with nature. "We need to realise that everything is connected. We pollute our patch of the planet thinking the pollutant will break down or disappear, but it doesn't—it goes somewhere else, it gets pushed up to the Arctic, washed onto beaches, eaten by wildlife. A blue whale feeds by opening its mouth and ingesting thousands of gallons of water; it's not designed to sieve out particles of plastic and trash. Even krill absorb plastic particles, which means it's getting right the way up the food chain. It's affecting the entire marine ecosystem. Plastic pollution is a global issue. Project C:Change is trying to raise the collective consciousness—to make people realise that we are intimately connected to our biosphere. We are behaving mindlessly. If we carry on at this rate, we are going to usher in the next mass extinction."
There's only so much individuals can do, says Sean. The real change needs to come at the level of government. He strongly believes polystyrene and plastic bottles should be banned. "We need to be regulated; we need to say to the government, 'You need to introduce these measures and we will suck it up, we will find a different way to get our water like our forebears did.' If we are not regulated, as individuals we are going to slip off the wagon. The problem is that governments allow these companies to provide what we want in the short term because it profits them. We have to get the Hong Kong government to act on things that we can't change by ourselves—things like plastic, food waste, recycling. Those changes can and should be made now."
Sean's frustration is palpable. When we meet for coffee in a backstreet of Wan Chai, he talks at length about the dire state of the planet, jumping, unprompted, from one alarming issue to the next. We're two soy cappuccinos down when I ask if he ever feels overwhelmed by all that needs to be fixed. "Yes, yes I do," he admits, drawing breath. "I have a healer who says I'm a bit depressed. I don't have the resources to make huge change on my own, but I suppose the way of not being overwhelmed is by doing your little bit. Eleanor Roosevelt once said, 'It's better to light a candle than curse the darkness,' and it's a great saying because if we all lit one candle, if we all contributed a little bit, we could create major change."
Would he ever consider going into politics, where he might have the power to change things at a legislative level? "I studied politics at the University of Edinburgh and it made me realise I never want to become a politician," he says. "Politicians win elections based on grand manifestos, but the system corrupts them or brings them down. With all the public speaking I now do, I feel like it's something that I could do, but where would I be a politician? Here? They would never accept me in Hong Kong. As it stands right now, I think I can achieve more as an independent body—as a grass-roots campaigner. You can do a lot as a private individual if you partner with the right people."
Sean's slick exterior jars with the stereotypical persona of a "greenie." I wonder if he ever feels he isn't taken seriously as an activist. "For some reason in our society, you can't be considered an environmentalist unless you are an absolutist, whereas you can be a humanitarian without being given so much flak. To my mind, there is nothing wrong with saying, 'I'm a conservationist and I want to protect animals but I have to make a living by working with commercial brands.' I don't see why wearing a designer watch means I can't raise awareness about endangered wildlife. To people who criticise me, I say, 'Well, you do something and then I will listen to your criticism.'
"Campaigning for environmental causes takes a lot of time and it's not something that's hugely rewarding from a financial point of view. It's tough operating in a place where people are so disconnected from nature, where so many people really don't care. Environmental television shows are not necessarily ratings hits," he continues. "Do people really want to watch a show reminding them that all is not well in the world? That is why I'm trying to find a way of making my shows adventurous and entertaining."
Sean is a realist. He knows that humans will strive always to make enough money to live comfortably, but this doesn't mean we need to profit at the expense of the environment. "I'm not saying give up making money, but I think we need to find a new form of capitalism, a more conscious form of capitalism. It can't be a zero-sum game where the environment loses every time. Positive enterprises [businesses that do good things for the community] are becoming a really key sector of growth in our economy. They may not be Fortune 500 companies, but brands like Toms and Jessica Alba's The Honest Company are doing fantastic things, and there are all sorts of businesses out there that have woken up to the fact that something is rotten at the core of capitalism.
"I believe the neoliberal system of capitalism that Maggie Thatcher and Ronald Reagan made mainstream, which allows a few individuals and multinational corporations to amass immense power and wealth, will be challenged in the next few decades, as it produces less equitable societies and doesn't do enough to support the environment. If we all do our bit, and support businesses that are ethical and environmentally conscientious, I think the future is bright."
This feature was originally published in Hong Kong Tatler's October 2016 issue.
For tickets to the Hope For Wildlife Gala Dinner on November 10, click here.