In the Key of C: Ryan Cayabyab
Musician extraordinaire Ryan Cayabyab talks about his early steps in music and the greatest achievement of his life.
It's probably hard to imagine the maestro as a boy in the UP College of Music, where he eventually taught for 20 years. At the time he'd be trailing behind respected musicians/arrangers to their recordings and rehearsals, and they'd gamely lend him their music scores to analyse. Among these people were Doming Amarillo, Doming Valdez, and Emy Munji.
Even before college, young Ryan readily embraced his destiny as he took piano lessons at 4 and violin at 10. His musical inclinations were stunning, and yet he had an exceptional ego that pushed him to keep going beyond expectations. "There's always someone more daring, more prolific, younger, and more creative," he says. "However, I also admit that there are some things that I do differently and better than others. Even though I know what I am doing, the end result is still a personal wonder—it's truly God's design all the time."
PHILIPPINE TATLER: When did you first fall in love with music?
RYAN CAYABYAB: Music was omnipresent in our old house, where my soprano mother accepted about 10 lady music students as boarders. So, it seemed to be the most natural thing, with everyone in the house either playing an instrument or singing.
PT: Who were your childhood icons?
RC: I grew up listening to classical music: Bach, Beethoven, Brahms; the "kundiman" of Abelardo and Santiago; and opera arias from Verdi, because my mom sang opera and art songs. But the moment I stepped into the intermediate grades, I became more aware of The Beatles, Burt Bacharach, Jim Webb, and Motown.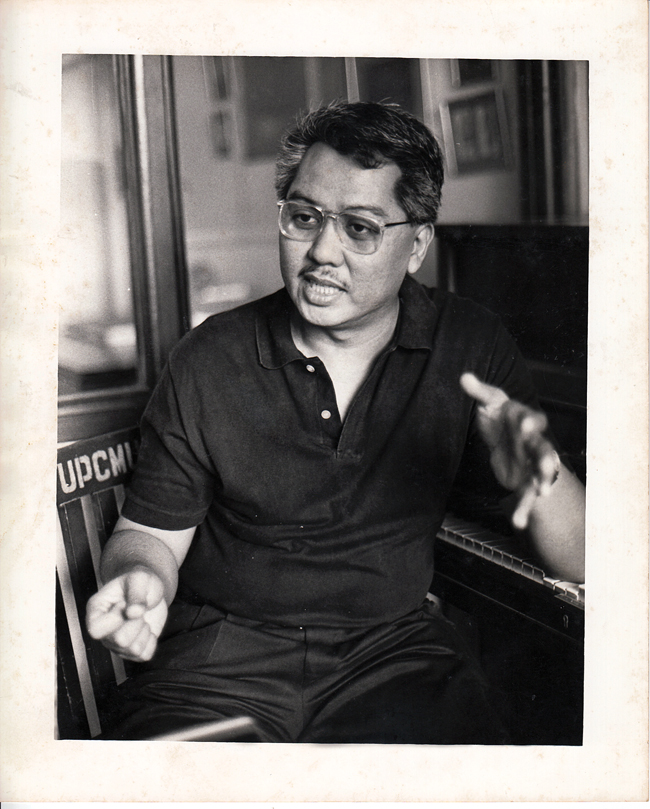 Photo of Ryan Cayabyab in UP College of Music (1987)
PT: What do you consider to be your first big break?
RC: At 15, I passed an audition as pianist-accompanist of a bank chorale group. I was a lanky six-footer with lots of pimples so I looked the part and got away with lying about my age. As for songwriting, it has to be winning the grand prize in the 1st Metro-Pop Song Festival in 1978.
PT: What intrigues you in your craft?
RC: Its infinite possibilities—the more you learn, the more variations you will discover. One also has to confront the business side, the ever-changing technology, the dance with different people. It's a dance, this act of dealing with clients, suppliers, craftsmen, artists, financiers, etc, because it is tricky—but like most dances, very enjoyable!

A 2009 tribute to Ryan Cayabyab in Los Angeles, California
PT: What do you consider to be your life's greatest achievment?
RC: It's having moulded a generation of musicians. I see them in gigs, I get to work with them, and they have become better than me in various aspects. That's the way it should be.
PT: How can a young musician break into the music scene?
RC: Only the best and brightest rise to the top. He must show talent that is way above par. He must do something that no one else is doing. He must constantly and consistently deliver. Above all, he must be humble, as well as have that ego to push him to the edge all the time.
Learn more about Ryan Cayabyab in the Philippine Tatler March 2014 issue. Download it on your digital device via Magzter and Zinio.
More stories: