---
---
---
---
---
---
---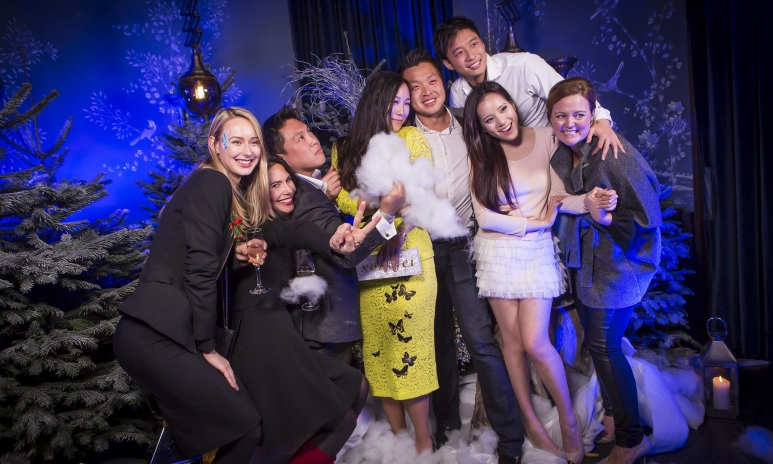 ---
---
---
The Christmas countdown officially begins on December 1, 2016 – and the only real way to kick it off is at The Fayre of St John's. Back for a third year, the carol concert, auction and fundraiser organised by global private network Quintessentially has become the event of the season. But what sets it apart from the rest?
"There's no shortage of great events in Hong Kong, so you have to do something different," says Quintessentially Group CEO Asia-Pacific Emma Sherrard Matthew, "So we have a carol concert and a party. The idea originated in the Fayre of St James in London: it's very successful there, and so we decided to bring it to Hong Kong. The key for us was for finding a local charity that we really believed in, that was doing amazing work and was relatively undiscovered." That charity is Maggie's Cancer Caring Centre.
Maggie's Cancer Caring Centre opened its first centre in Scotland in 1996. Founder Maggie Keswick Jencks was diagnosed with recurring breast cancer in 1993, and until her death in 1995, she worked with Edinburgh Western General to improve cancer patient care and carefully drew out plans for a care centre. In 2008, the first centre was opened in Hong Kong, where Maggie spent much of her childhood years, and in 2013 the purpose-built facility, designed by internationally renowned architect Frank Gehry and Maggie's daughter, landscape architect Lily Jencks, opened in Tuen Mun.
"It's a place where sufferers can go to be people rather than a patient. We're helping them to fund their staff – psychologists, oncologists, nurses, social workers – and to run all of their support and social programmes for free." Matthew says on the Tuen Mun centre. The centre has seen a 16% increase in visits since fundraising started.
"They've created a haven not just for the patient — but for the families as well," explains Matthew, the lead founder and organiser of the event. "When we were looking for a charity, Maggie's Cancer Caring Centre was relatively unknown within Hong Kong — for us, it was about putting Maggie's on the map. I'd known the Keswick family for many years, so the first step in setting up the event back in 2014 was to speak with them. They were up for it, so then it was a case of inviting people from our friends and family network who would be committed to putting on an event for this amazing charity. It's the same people coming back to help every year, we've been lucky with a really dedicated committee."
"If you look at the people who are attending, they come from so many faiths and religions. Hong Kong has a very big heart."
The venue, St John's Cathedral in Central, is one of the key attractions. "It's such an utterly beautiful building, a sanctuary in this incredible city that we live in. I think one of the things that makes it a success is having such a unique venue," says Matthew. "For me, there was nowhere else we could host the event: St John's already has that magical festive feeling to it. Plus, it was great to be able to play on the name of the original event in London." Opened in 1849, the cathedral is one of the oldest buildings on Hong Kong Island, and has increasingly embraced this new Christmas tradition. "The cathedral has been more and more supportive as the years have gone on. I think it really goes beyond Christmas: if you look at the people who are attending, they come from so many faiths and religions. Hong Kong has a very big heart."
The cathedral hosts the carol service and a variety of entertainment, though Matthew is keeping quiet about what's on the cards for this year: "There will be a few of the favourite staple acts returning — I do love the ballerina because it's got that wonderful Christmas feel, though for me nothing beats a choir. The evening is about showcasing the best of Hong Kong, and raising money for a great cause."
In the previous two years, the Fayre of St John's has raised a combined total of HK$4,000,000 – but Matthew hopes to increase that this year. "We want to raise an additional three million to that," she says. "The auction and raffle are going to be much bigger this year, with better prizes, plus we're bringing back the VIP tickets which we introduced last year."
For Matthew, the traditional elements of the event that make this event so special. "My Christmas's are very steeped in tradition," says Matthew. "Now that I have my own children, I'm looking forward to celebrating my traditions with them, and making our own ones. I think that's what the Fayre of St John's does really well: it brings together all the classic elements of Christmas that everyone really loves, but in a new way."
General tickets are $2,500
VIP tickets are $8,000
For ticket enquiries or to support the event, please contact fosj@maggiescentre.org.hk
For more information about Maggie's or to make a donation, please visit www.maggiescentre.org.hk