Claudine Ying bared more than just her bump when she met with Hong Kong Tatler to discuss impending motherhood. The education entrepreneur opens up about the father of her child, breaking with convention and forging her own type of family
The lounge at the Four Seasons Hotel is a cacophony of tinkling spoons, clinking china and the natter of primped matriarchs. It's teatime on a Tuesday and Claudine Ying, the young glamazon who routinely graces the pages of Hong Kong's glossies, has asked to meet me here for our interview. She's running late; I've taken a table in the far corner with a prime view of the action so I can spot her when she arrives. A few minutes later, a young woman in black exercise gear is ushered towards my table, her winsome, make-up-free face bobbing above the sea of socialites and scones.
"Sorry I'm late," she says matter-of-factly as we kiss hello. Without her jewels and haute couture, the daughter of former Esprit chairman turned philanthropist Michael Ying and ballerina Flora Zeta Cheong-Leen looks bare. For Claudine, who has been in (or at least fluttering near) the spotlight for as long as she can remember, dressing down must be a luxury.
Going incognito may well be strategic too; Claudine's face is arguably one of the most recognisable in Hong Kong society. Her tycoon-meets-celebrity parentage has always drawn media attention, and her slender frame, doe eyes and clear skin has lured the business of many a high fashion and beauty brand. All of this has helped make her a digital star, too. The founder of Bebegarten, a progressive kindergarten that advocates a method of learning based on creativity, exploration and play, Claudine is perhaps the only early-education entrepreneur with more than 21,000 followers on Instagram.
The attention, however, has reached new heights in the last six months. In January this year, the unmarried 28-year-old announced she was pregnant with the child of boyfriend Lloyd Jones. She'd been dating the Australian expat just nine months when she broke the news—and what a frenzy it's created.
"People have called me brave, which seems bizarre to me," she says dispassionately, as she stirs a spoonful of honey into a glass of Perrier. "I would never affiliate that word with what I'm doing."
When asked if she finds it strange that a child born "out of wedlock" is still the stuff of gossip in 2016, she rolls her eyes. "People are thinking too much. I mean, these days there are surrogates, gay marriage is gaining mainstream acceptance, and de facto relationships in many countries afford the same legal protection as marriage," she says in her laid-back US West Coast accent—a holdover from high school in Los Angeles. Nevertheless, people have been talking, as so often happens in the close-knit city that is Hong Kong.
"My mother's a good role model in terms of being an independent woman. She's very successful and I've learned a lot from her, but I've also learned a lot about what not to do from her" — Claudine Ying
"This pregnancy," she says emphatically, as if she's fielded questions about it time and time again, "is something I have always wanted." Claudine says she began thinking about having children two years ago after being diagnosed with a rare auto-immune disorder. Her condition required treatment that would have made it extremely difficult—and, in short, dangerous—to conceive. "From the beginning, my doctor had told me that if I was planning on getting pregnant, I would need to tell him. I made a conscious choice to stop treatment in order to have a baby. So when people imply it was an accident, I say 'Actually, that's physically impossible.'"
Sickness threw things into perspective. Now sure that she wanted a baby, she broached the subject with her boyfriend, Lloyd, a strapping banker who used to play rugby for the Hong Kong team and who she had then been dating for only six months. Was that daunting? "No," she says nonchalantly—but then it's hard to imagine anything that would faze her. "I was just really honest with him about wanting to start a family and I wanted to make sure we were on the same page. I said: 'Who knows what life has in store for me? Thirty might be too late for me to have kids.' That sounds really dramatic, but you just never know if these things are going to take longer than you think."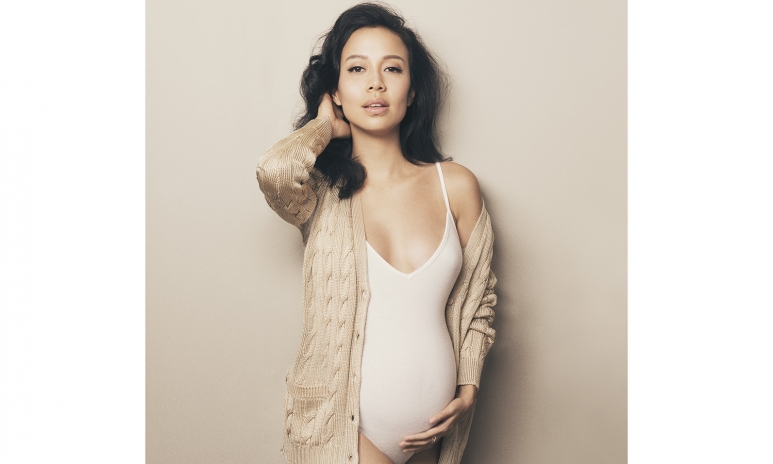 Her peers had mixed reactions when she relayed her plan. "Religious friends of mine were like, 'Don't do that, it's inappropriate.'" She pauses, gazing into space as if she's still trying to wrap her head around the concept of an "inappropriate" child. "I just can't see it that way."
Candid and self-assured, Claudine has a relaxed rhythm. Not one for theatrics or small talk, she speaks slowly and deliberately. Veronica Chou couches it as a "direct and no-bullshit attitude" which she says makes Claudine a great friend and one of the coolest girls she knows. Don't be fooled by her cherubic face; it belies a will of iron and an inner strength she was forced to develop, according to her mother Flora, to get through a complicated childhood.
Claudine's parents divorced when she was one year old. Her mother, who she admits is "not a very maternal person," wanted Claudine to live with her father, Michael Ying, who married and started a family with actress Brigitte Lin shortly after their divorce. Claudine says Flora is a great friend to her now, although it's clear things were shaky throughout her teenage years. "My mother's a good role model in terms of being an independent woman. She's very successful and I've learned a lot from her, but I've also learned a lot about what not to do from her," says Claudine.
Flora understands. "When I went to boarding school, I think I left my family too early," says the former dancer. "I developed a very strong sense of independence and I had it in my head that Claudine should be independent, too. Now I feel like I wasn't a good mother because I wasn't there to pamper her and put on her shoes, but I felt like I wasn't able to at the time. I was so busy with my career and launching my fashion collections. I felt Claudine was lucky because her father remarried and her stepmother, a kind and compassionate person, was there for her. It was a complex feeling, but I didn't want to give her mixed signals. So, against my instincts, I said, 'Listen to your dad and your stepmother.' It's important not to confuse a child when she is young—I didn't want her to feel she had different bosses."
Instead of breastfeeding her daughter, Flora invented a mobile that dangled a bottle above Claudine's crib so she could suckle when she pleased. Claudine's independence manifested in primary school too, when she refused to wear the mandatory skirt in favour of shorts. When the headmistress asked why she was being so rebellious, she calmly explained that the boys could see up her skirt when she walked upstairs, prompting management to change the school rules. "Claudine was a bit of a groundbreaker. She doesn't talk much, but when she does, she always has very solid ideas," says Flora.
After primary school in Hong Kong, Claudine spent three years at an international school in Beijing, during which time she lived with her cousins. "It wasn't like Hong Kong, where the international schools are populated by affluent Chinese people. I had a lot of Malay friends, Muslim friends, whose parents worked in Beijing at IBM or Boeing—I really enjoyed that experience," Claudine says.
The mainland has played a major role in her life since then. In addition to her work with Bebegarten, she also works with the Yanai Foundation, a non-profit education organisation established by Claudine and her father, which builds free public boarding schools across China. The foundation has built more than 200 of these schools, known as Siyuan Experimental Schools, in 17 different provinces in an effort to provide quality education to underprivileged children.
Claudine keeps tight-lipped about her teenage years, but it's clear she was given a lot of freedom. She went to high school in Los Angeles for three years, living, for the first time, with Flora, who was nervous about her daughter spending this formative period in the US. "I told her father she should not be there because the American lifestyle was so free," recalls Flora. "I felt she could turn the wrong way." Claudine describes it as "that classic Californian high school experience: prom, homecoming and football games."
I ask Claudine if she ever went off the rails. "I was the worst kid you could imagine. I don't want to talk about it—some of it may not be legal," she says, laughing. "But most teenagers go off the rails. The difference is that some are in the spotlight and some are not. Some are easier to make fun of. My parents were in the public eye, so people were more critical of me. I've got no regrets, though. I've had a really good run. I got away with a lot."
"You have to be patient with children. You have just got to let them screw up—and have faith that you have given them good foundations and that they will grow out of it." — Claudine Ying
When Claudine was 16, she told her parents she'd enrolled in an overseas summer school programme but instead flew to Cabo, Mexico, and used that tuition money to fund
a three-week holiday. How did Flora feel about her daughter sneaking off ? "That wasn't naughty. Everyone needs their space; she was just very innovative."
I ask Claudine how she would feel if her own child pulled a stunt like that. First off, she doesn't think any child of hers would be capable of fooling her. "Now I can smell out any lie. There is not one trick in the book I didn't use," she says. "But I think you have to be patient with children. You have just got to let them screw up—and have faith that you have given them good foundations and that they will grow out of it. If you try and clamp down on everything, it might make them resentful."
Many of Claudine's closest girlfriends, including Natalie Chan-Kwok, Alison Chan-El Azar, Emily Lam-Ho and Veronica Chou, have been married in grand, formal ceremonies in the last few years. This, no doubt, is what society expected of her. But the heiress feels no pressure to appease society's desire for nuptials. Right now, she and Lloyd have no plans to get hitched. "Maybe she is a bit scared of getting married," says Flora, who is under no illusions as to the example she set for her daughter. "My mother has been divorced many, many times, so I don't think marriage is for everybody," says Claudine. "It's not that I'm jaded, I just don't have strong feelings about it either way. I want to go straight to raising a family. That has always been my priority."
That doesn't mean she has given up on a future with Lloyd—far from it. "We see each other as life partners. There's a much greater commitment in formulating a family with someone than having a wedding." The couple has already decided they want a big brood. "I feel like I just want to be a baby machine for a good couple of years."
Both her parents and her stepmother are supportive of her decision. "Weddings are often about the parents rather than the children. My dad is a very loving father. He doesn't need a wedding for him."
What kind of mother does she want to be? "I'm going to be very pedantic about the characters that are being formed at home. More so than academic results. I want them to be decent people with good values." Perhaps she's reacted against the type of mothering she received. "My mum was absent for most of my childhood. She was a disciplinarian and very results-driven when it came to my schoolwork. I want to focus on being a warm and loving mother who raises children that give back to society in a meaningful way."
Lloyd is a very private person. When Claudine is busy giving interviews, obliging the paparazzi or feeding social media, he'll often remind her that "some things are sacred." How are they going to manage those different dynamics in the future? "I think…" she stops, as if she's turning over a major decision in her head, "I think I'm going to retire. From all of it. When I have kids, I wont have time to do all this. I look forward to those days of having a quiet household."
---
Photographed by Olivier Yoan; Styled by Justine Lee; Hair: Jean T at Ten Studio; Make Up: Chris Chau at Zing the Make Up School; Stylist's Assistant: Spencer Leung
Shot at The Langham, Hong Kong
This story was published in the May 2016 issue of Hong Kong Tatler.