"I mainly travel with white shirts, a bag of colourful ties, a few vests, jackets and jeans," admits a dapper Matthew Campbell Laurenza, the young Colorado-born jewellery designer, who is dressed exactly as he describes. While Laurenza has a base in Hong Kong two to three months out of the year, he spends most of his time travelling the world – his label, MCL, has six offices worldwide, and his pieces are in over 36 markets internationally. When he's not kicking back in the fragrant harbour, he's back in New York City, "where the fashion press and celebrities are".


What is striking is the difference between Laurenza's demure, put-together gentlemanly look and the wild, ultra-feminine jewellery design he is showing us today. In a collaborative effort with Lane Crawford, the designer is presenting a capsule collection of elaborate cocktail rings and embellished bangles that wouldn't look out of place on the fair hand of Lady Gaga. Vibrant green tourmaline (the key precious gem in this particular collection, which also happens to be Laurenza's birthstone), deep blue and golden yellow sapphires, and blood-red rubies all bound by hand-finished enamel in styles depicting exotic flora and fauna are Laurenza's latest masterpieces.

We also interviewed Chinese jewellery designer Bao Bao Wan about her collaboration with Lane Crawford
Regarding Gaga, Laurenza recounts that she was actually the most conservative when it came to selecting pieces from his line. "She wore a stack of fourteen bracelets when she was on CNN, with a big bow in her hair, and her big sunglasses," he recounts, bemused. "She didn't come wearing meat." Other celebrity clients he rattles off include other big personalities: Beyonce, Meryl Streep, Nicky Minaj, Rihanna.
Laurenza's quirky pieces owe a lot to his sculptural and fine arts background. Every season there is something different, but what defines his point of view as a designer is his desire to use colour as statements, tinged with art nouveau and art deco influences. "Traditionally, I'm inspired by architectural elements and decorative artwork."


Speaking of architecture, he makes us laugh when pointing out one of his favourite ring pieces, a chunky number that he quickly flips over so that it stands like a miniature chair. "I started producing jewellery and decided that it was an opportunity to do mini sculptures," he explains. "It has also enabled me to be very prolific. You can fit 20 rings into a little box, compared to 20 sculptures that you can barely fit into one apartment!"
Jewellery, to Laurenza, is the ultimate statement piece – the most important accessory you can have. He dismisses shoes and handbags from the running – the former are hidden as soon as you sit down at the dinner table, and handbags are always put to the side – declaring jewellery, particularly rings and earrings, as the true indicators of character. "It's always visible. Earrings frame the face, and rings are visible when you're eating, or when you talk," he says, gesturing with his hands. "Whether you have a simple dress, or a very loud dress, a cocktail ring is something that will go with both. Whereas a necklace may not go with the right neckline, or a bracelet may not go with the right sleeve, a ring will always go with any outfit."

Read our tips on how to judge colour diamonds


For Laurenza, jewellery comes to life when worn, and he hopes that Hong Kongers will start looking at pieces less from an investment point of view, and more from an aesthetic perspective. "It's always been something very precious, jewellery. It's something meant to be passed down. But you can only have so many investment pieces," he insists. "My advice is to get one really nice diamond, and then get some good conversation pieces." What about Laurenza's accessories advice for men?
"I think male jewellery is an up and coming thing, I'm happy to see it," says the designer. "Traditionally men were focused on cufflinks because it was the only thing statement of personal style that they could wear apart from a watch. As men's fashion gets more deep, I've seen a lot of necklaces, a lot of bracelets, and rings are coming to the forefront too, which is good."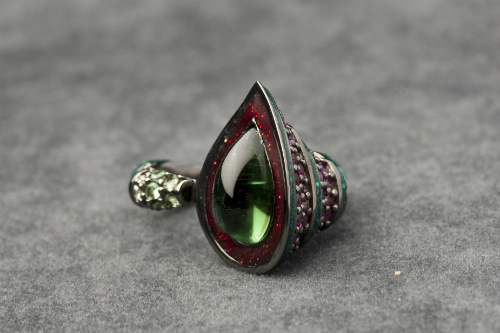 In the future, Laurenza's line will expand even further to include a larger clothing and accessories line, and even homewares. The young designer's energy is palpable, reflected, as always, in his pieces, each one a labour of love. "My favourite piece is always the one I'm currently working on," he admits. "After I finish, it's like a puzzle. It infatuates me until I finish. Then the next one becomes the love of my life."