Style maven Lianne Lam takes us along for the ride
Stylish BFF's Lianne Lam and Emily Tang head to the City of Lights for Chanel's Fall/Winter 2017 Show, and we get the exclusive from the front row.
See also: 6 Red Carpet Looks From Lianne Lam
Day 1: Arriving in Paris
Paris, here we come! Emily and I have some quiet R&R in the cabin before a weekend of shows.
We arrive at the Ritz with a warm welcome. The invitation for tomorrow's show also arrives with a lovely bouquet of flowers and champagne.
A quick afternoon tea before we head off for the day's activities. French pastries are simply too good to resist.
Emily and I visit the Lesage workshop. Maison Lesage has been in business since the 1920's, and has created some of the most beautiful embroidery work for the House of Chanel.
With the help of the Petites Mains, we even get to spin our very own tweed!
---
Day 2: Showtime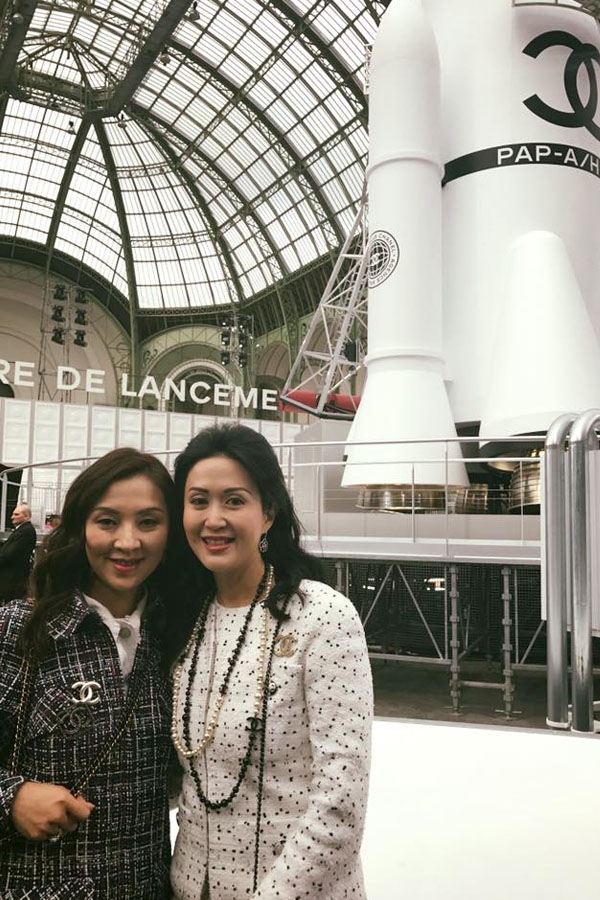 Emily and I dress in our favourite Chanel outfits for the show. The Grand Palais has been transformed into a rocket launching pad, complete with a Chanel spaceship.
Karl Lagerfeld and his godson, Hudson Kroenig, do the final walk together—so adorable.
---
Day 3: A Visit to 31 Rue Cambon
Our last day in Paris is packed with activities. Emily and I take a tour of Coco Chanel's Rue Cambon apartment. Interestingly, she never spent the night in this flat—she used it to work, meet clients and entertain friends. I love the mirrored staircase that leads up to the third floor of the apartment.
The first floor of the apartment is where Chanel used to hold her fashion show presentations in the 1930's.
Emily and I have lunch together in Coco Chanel's intimate dining room. It's perhaps one of the most surreal experiences of this whole trip.
Last but not least, we take a photo in Chanel's famous living room. It was truly remarkable to see so much of the brand's heritage in this beautiful space.
---
See also: Chanel High Jewellery: The Muse, The Stories And The Gems
Like this story? Subscribe to our weekly newsletter for more fashion articles.