8 Trendy Staples To Get Your Athleisure Game On
The sporting, investment-worthy wardrobe pieces that take you from work to workout.
As long as fitness and health remain an obsession of the trendsetting community, sporty apparel will continue to take over our favourite fashion racks. Judging from the onslaught of activewear, sportluxe-inspired collections, athleisure is here to stay, styled to take us seamlessly from work to athletic pursuits.
Read also: Fitness Fiends
If you still harbour mixed feelings about sport-influenced apparel but kind of want to or are curious about jumping on the bandwagon, it's not too late.
This season will show you how fit and functional dressing can be elegant when done right. Not to mention that the comfort factor will turn you into a swift covert. Just take a look at these 8 irresistible finds.
---
adidas by Stella McCartney running jacket
With its multicoloured landscape print, this feminine outerwear makes as a perfect disguise for its other function – a running jacket. The Adizero Climastorm is lightweight, water-repellent and tweakable for meetings and dinner parties, too.
---
Balenciaga duffel bag
Yes, it's a gym bag, but it technically counts as a Balenciaga too. Roomy, practical and minimal, you could throw in a change of clothes and your laptop for those gym-to-office days, and not have qualms about flaunting it.
---
Bally leopard print leather sneakers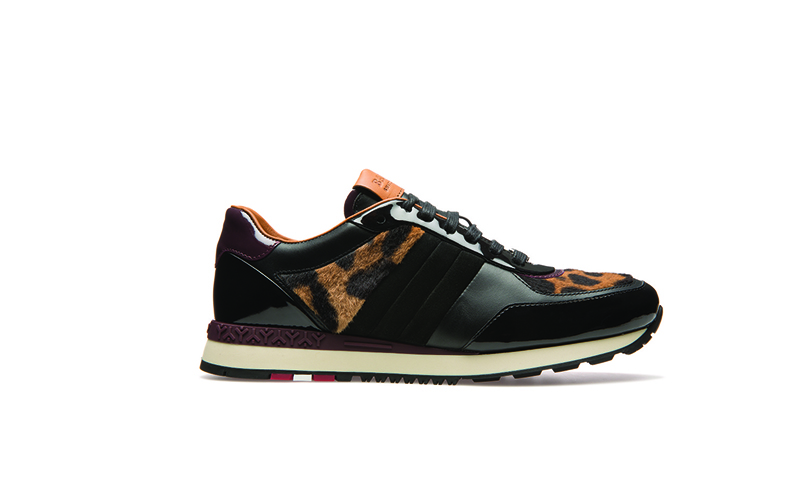 It's hard to argue how far a pair of hybrid trainers like this can take you. A mix of leopard print pony hair, calf leather and suede, these trainers tackle all sportluxe themes. You'll be hanging up your heels in place of these rubber soled, lace-up beauties.
---
Dior Blenheim Garden Fusion sneakers
With details inspired by England's legendary Blenheim garden, Dior fuses sequins, petal applique and embroidered beads in floral patterns on a functional pair of comfy shoes. This comfy pair will launch you into the world of sneaker-and-dress combos with confidence.
---
DKNY Sport black logo pants
DKNY pays homage to the busy urban woman this season, and has designed elevated sporty essentials like this pair of roomy tracksuit that doubles as a wide-legged pants too. Pair with a white button-down or black blazer, and you're halfway to a suit.
---
Salvatore Ferragamo hoodie vest
Salvatore Ferragamo turns every fitness lover's hoodie cover-all into a smart staple with this plush vested number. Get creative, build it into a casual Friday ensemble by tying a colourful silk scarf around the neck, and a pair of black slacks or leggings beneath.
---
Ray Ban Chromance sunglasses
This pair of Ray Bans seamlessly takes you from trail to trendy, with its funky chrome frame. You can depend on its wrap-around feature to stay in place while you're on the move, whilst keeping your sleek factor in check.
---
Zayn x Versus Versace crop top
Zayn Malik's streetwise collection is also occasion-savvy, thanks to a monochrome palette. Swap your sultry evening look with this ZYX print crop top for a hint of skin, or channel your best athleisure look by pairing it with tailored high-waist pants or a pair of pointed shoes.
---
Product photos courtesy of respective fashion brands.
Related: Look Hot While Breaking A Sweat