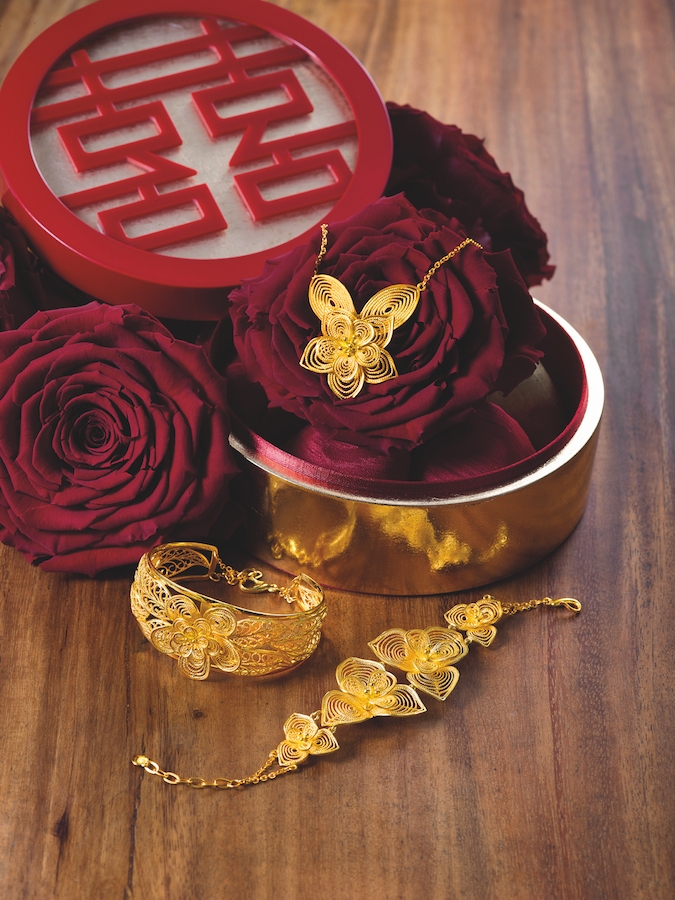 At first glance, Chinese wedding jewellery appears intimidating: big, heavy and aggressively yellow. But despite this, many tasteful modern women wear it with pride on the biggest day of their lives.
See also: Say Yes To Nirav Modi's Celestial Bridal Jewellery Collection
Chinese wedding jewellery is laced with meaning and soaked in culture—it reminds us of who we are. It carries the well-wishes of those dearest to us: hopes and dreams that have been passed from generation to generation.
The jewellery is traditionally given by the groom's family as part of the bride price, signifying that the bride is welcome to the fold as a treasured member: it is said that having a woman in your home is like having gold.
The type of jewellery given varies by group: Cantonese and Hakka families give "Dragon and Phoenix Bangles"; Chiu Chow and Hokkien people give the "Four Pieces of Gold," a set of four items. Elders on both sides will also pass on heirlooms to show the bride how cherished she is.
It's also a chance to display wealth and generosity. The bride is obligated to wear the jewellery immediately, which sometimes results in her being draped in quantities of gold that go up to the kilogrammes. The pieces are typically 24-karat gold, engraved by hand. Anything less pure cannot be considered "real" gold in a Chinese wedding. It also serves as a form of insurance for the bride, should she ever encounter hard times.
See also: 12 Red & Gold Accessories For Your Chinese Wedding
While tradition is irreplaceable, modern brides have been exerting their influence in terms of style and design, and jewellers have taken note. Electroforming technology has improved the hardness of 24K gold, enabling jewellers to design more intricate pieces and even set gemstones. A special process also enables 24K gold to take on a rose tint, though many Chinese still prefer its original colour.
Popular Chinese wedding jewellery gifts
Dragon & Phoenix Bangles
The divine and righteous dragon is known as the "Ruler of Beasts" while the Phoenix is the "King of Birds," bringing beauty and prosperity. Together they form the ideal partnership, filled with unity, harmony and balance.
Usually presented by Cantonese or Hakka families during the tea ceremony, the bride might receive multiple pairs of these thick bangles which are stacked on the forearms. The traditional tea ceremony outfit has shortened sleeves specifically designed to show them off.
Four Pieces of Gold
This Chiu Chow and Hokkien custom comprise a necklace, bracelet, ring and earrings presented before the wedding. In current times, some brides may flout tradition and go for two rings and two necklaces instead, or just a single item of a higher value.
The custom originates from the province of Chiu Chow, where traditional houses had roofs with curved corners, resembling the Chinese word for gold (金). The gift of Four Pieces of Gold reassures the bride that she will be well provided for and will always have a roof over her head.
Nine Treasures Box
Usually given by the bride's older relatives, the box contains eight auspicious pieces of jewellery, with the ninth treasure being the box itself:
A scale symbolises the beginning of marital bliss
A mirror reflects the bride's beauty
A basket represents abundance
Scissors symbolise the making of clothes for the new family
An abacus imparts financial acumen
Embroidered shoes represent fidelity and harmony
A comb recalls a hair-combing ritual
A ruler is used to measure happiness and count one's blessings
The box itself carries good luck and wishes
Gold Miniatures
In olden times, items such as a rice bowl set, a baby's bathtub or ceremonial "ruyi" sceptre were auspicious and expensive gifts. In the present-day, they may be less valuable, but they haven't lost their auspicious connotations. So well-wishers opt for gold miniature versions—in 24K gold, of course.