Olympian Hidilyn Diaz On The Tough Road She Faced To Claim the Philippines' First Olympic Gold
Earning the Philippines' first ever Olympic Gold medal, weightlifter Hidilyn Diaz embodies the power, strength and faith of a nation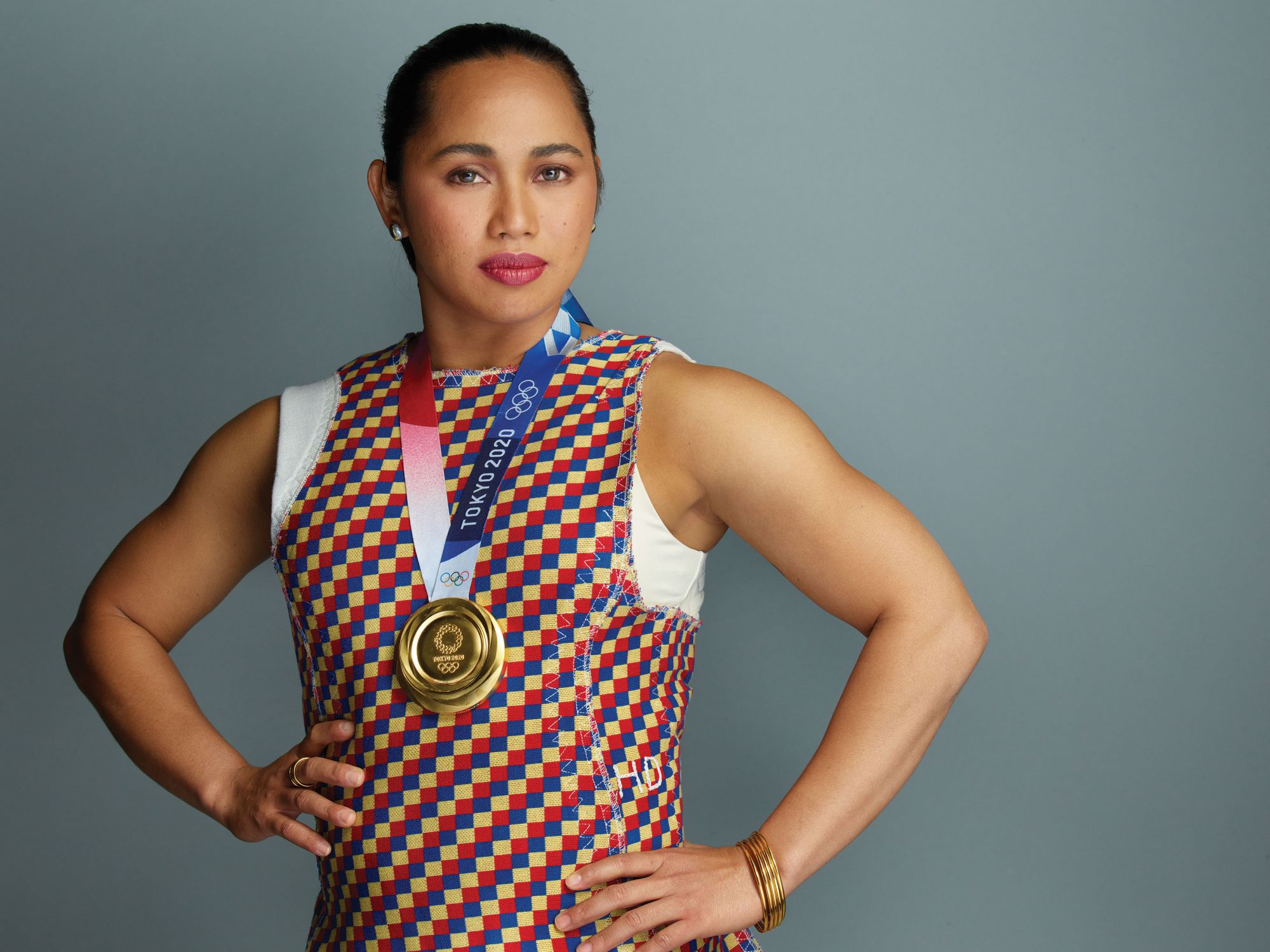 Taking a deep breath on the sidelines as she awaits her turn, Olympic weightlifter, active member of the Philippine Air Force and Gen.T honouree Hidilyn Diaz clutches tightly at her Miraculous Medal of the Blessed Mother. It was a reminder of all the people praying for her and of knowing that God is always with her, especially now. As she stepped onto the crimson stage, the voice of her strength and conditioning coach, Julius Naranjo, rang through her mind: "One motion, chest out, one motion."
One motion, one extra kilogram and immeasurable determination are what it took for Diaz to stand victorious. By lifting 97kg in snatch and 127kg in the clean-and-jerk, setting an Olympic record in the process, she beat China's Liao Quiyun with a total of 224kg, bringing home the Philippines' first-ever Olympic gold medal. "I was not thinking of the Olympic record, I was not thinking of a medal; I was just focusing on the movement—one motion, chest out," says the 30-year-old champion. "I was never able to lift 127kg in the clean-and-jerk before. I have tried but never could." That day she did. With an entire nation cheering her on, in one seamless movement, Diaz made history at the 2020 Tokyo Olympics.
Above 
Hidilyn Diaz of the Philippines cries after winning the Women's 55kg Weightlifting Group A match on day three of the Tokyo 2020 Olympic Games. (Photo: An Lingjun/CHINASPORTS/VCG via Getty Images)
Her path to this life-changing moment was not without its challenges. While representing the country at the 2012 London Olympics, she received a devastating "Did Not Finish" after three unsuccessful attempts in her clean-and-jerk. In a past interview with Tatler Philippines, Diaz said she felt like "there was no way I could win in the Olympics or even go back to weightlifting. I felt like I was a loser, a failure, that I was empty and with no purpose or direction in my life".
Picking herself up, Diaz took home silver at Rio 2016 and continued to keep her eye on the prize. After years of training for Tokyo 2020, she was finally feeling prepared—then the pandemic hit. "Every day, we live in anxiety," she says. "When I found out they postponed the Olympics, the athlete in me was like—what now? I've already given my everything." Despite the constant fear of falling ill and logistical difficulties, Diaz continued to train. Separated from her loved ones, stuck in Malaysia due to international travel restrictions and with no gyms open, she trained using bamboo sticks, water bottles and weighted bags. "I'm so grateful the Olympics pushed through. I'm so grateful we made it and we were able to bring home that gold medal for the Philippines."
Adding more weight to the achievement is the fact that the Philippines' first Olympic gold medal was won by a woman. "This is so significant for me, that I was able to prove that we women can do this. Kaya ng Filipina, kaya ng Filipino [The Filipina can, the Filipino can]," Diaz declares. "I am so proud to be a woman, to show that women are not just capable of being at home, that we are proficient in sports, that we can succeed in anything—while wearing lipstick too!"
See also: Meet The Gen.T Honourees Competing In The Tokyo Olympics
I am so proud to be a woman, to show that women are not just capable of being at home, that we are proficient in sports, that we can succeed in anything—while wearing lipstick too!
Above 
Hidilyn Diaz. Photo shot by Mark Nicdao
The Zamboanga-born athlete says she was discouraged from all sides when she began her career. "Weightlifting is considered a man's sport. So when I began, I heard a lot of 'Are you a tomboy?'. My own mother told me, 'Don't do that! That's for boys. You won't be able to get pregnant. You won't get tall. You'll have muscles like a man so how will you find a man?' In the end, she saw that I loved what I was doing and supported me."
Tokyo 2020 shone a spotlight on the country's female athletes, with 10 out of 19 in the Philippine team being women. Boxer Nesthy Petecio brought home a silver medal and skateboarder Margielyn Didal won the hearts of viewers around the world with her cheery disposition and sportsmanship. "To Nesthy, Margielyn and I, they all said these are men's sports, but this is what we love, what we are passionate about. It's not just 'for the boys'. We are girls, and we can excel. We are strong and we are beautiful," she says.
Diaz laments the fact that female athletes don't always get their voices heard. "We weren't always supported; in the past it was difficult. Today, while we do get financial and coaching support, we don't always find a platform. In the sporting world, if a woman speaks up, they'll call her mahadera or pakialamera (impertinent or meddlesome). Hopefully this will change, and women will have a voice in all aspects of life."
She acknowledges that although female athletes may have different physiological needs, all athletes are the same at the core. "Sometimes we are moody and don't have as much strength due to our cycles, but at the end of the day, we are all the same. We all need the same diligence, perseverance, consistency and courage."
Above 
Hidilyn Diaz (Photo: Mark Nicdao)
In mid-2019, Diaz made headlines when she revealed that she needed more financial support for her Olympic training, alluding to the fact that she had not received enough from the government and was seeking assistance from private entities. This led to discord with some members of the Duterte administration, who have now distanced themselves from the issue. Letting bygones be bygones, she encourages the government to provide for athletes. "I would like to use this opportunity to give a voice to my fellow athletes. We should be able to express ourselves freely and have our needs met, so that we can continue to be role models to the youth. We can show them what it takes to be a good citizen," she says.
Diaz herself has been inspired by great Filipino athletes. "Ever since I was young, I looked up to Filipina long-jumper Maristela Torres. She continues to train and compete today. And of course, Manny Pacquiao. He truly is an inspiration and a legend. How many times has he won? How many times has he defended his title? And when he lost it, he is still fighting till today. He is relentless."
Diaz exclaims: "Hopefully, I too can be a source of inspiration to the youth to continue their goals, pursue their dreams and finish their studies. I'm still aiming higher, higher than even the Olympics. I hope that very soon, I can finally get my diploma."
Currently enrolled in De La Salle-College of Saint Benilde, the Olympian has been pursuing a bachelor's degree in business management. "I've been taking just four units a semester so I can study in between training. It's looking hopeful that I can finally graduate next year."
See also: Filipino Golfer Yuka Saso Makes History By Winning The 2021 US Open
Above 
Hidilyn Diaz (Photo: Mark Nicdao)
One of the most important lessons Diaz says she's learned in her career is to never give up. "When I saw the outpouring of support, all the messages from young people all over the Philippines saying I was their inspiration, that really pushed me forward and gave me extra strength to do my best. I'm so grateful for it all. I hope I was able to give back to my compatriots the same inspiration they have given me—that despite the pandemic, we can continue as a nation and keep on fighting."
With her national icon status now firmly locked in, and the upcoming presidential elections in the country, Diaz can likely expect presidential hopefuls to seek her backing. "I'm not endorsing anyone. I'm in the Philippine Airforce and the Philippine National Team; we are here to serve and represent the Philippines. I serve the Filipino people and not politicians," she says. In the same breath, she passionately encourages people to register and vote. In a short video she recently released, she said: "I will vote for a leader who has the heart for winning and is not a defeatist. Someone who is God-fearing and humane, and not self-centred. Someone who will care and extend support, not sow fear."
When asked if politics would be in the cards for her in the future, Diaz laughs: "I'm afraid of politics! I'm not sure if I am capable of that; it's a whole other level of responsibility that is needed for that career. For me, whatever God has in store, I hope he will guide me and help me. That he will continue to send me the right people around me and grant me the wisdom I need to make the right decisions in life. I'm not sure what the future holds but I need to be ready to level up. I would like to find more ways I can help Filipino athletes and youth."
Diaz acknowledges her Catholic faith as playing an integral role in her life and success. "I have this deep personal relationship with God. I pray to him; I communicate with him. He has helped me in so many ways. In Malaysia, he sent people to help us survive and get through our difficulties. At every meet, I surrender the play to him. I don't pressure myself and think 'gold, gold, gold', instead I give it all up to him. I just have to do my best in training, do my best in the competition and the rest is up to him."
See also: Meet The Philippines Honourees On The Gen.T List 2021
What is so refreshing about Diaz is how willingly she credits others for her success. In every interview, she shares how much Team HD has done to get her to where she is today. Her core team is composed of her head coach Gao Kaiwen, assistant coach and conditioning coach Julius Naranjo, sports psychologist Dr Karen Trinidad and sports nutritionist Jeaneth Aro. "I could not have done this without them and, of course, the Philippine Sports Commission, Philippine Air Force, Samahang Weightlifting ng Pilipinas and my private sponsors, particularly the MVP Sports Foundation."
The pressure on top athletes such as Diaz often take a toll on their emotional and mental wellbeing. "It's so important to have people around you, people you can talk to," she says. "The anxiety is high, the fear and the worries, especially with the pandemic. Mental health is so important. We need to learn that we have to take control of the things that we can and accept the things that are out of our hands."
Among her support system, Naranjo holds a special role in Diaz's life. "I'm so lucky! He's not just four-in-one, he's more like a 10-in-one!" she exclaims with a big smile about her boyfriend of almost five years. "He's my coach, photographer, videographer, driver, chef, all of it! He understands me and that's the most important thing."
Above all, Diaz's story has offered a beacon of hope to her nation. "I know that it often has a negative connotation, but I am proud to think of myself as ambisyosa [ambitious]. I always aim high, and I will do whatever it takes to achieve my hopes and dreams. Even if we think it's impossible, we just must ask for guidance from God. I'm grateful that he sent me people to remind me to never give up. And so, I'm also here saying, we shouldn't give up. My victory is everyone's victory."
---
See more of Gen.T's Olympics Coverage
Topics
© 2022 Tatler Asia Limited. All rights reserved.