10 Things You Missed At The Hong Kong Generation T 2017 Party
This is how Generation T throws a bash
Last Friday saw the highly anticipated reveal of the 2017 Generation T list, featuring 50 of Hong Kong's young movers and shakers selected by Hong Kong Tatler and our Tatler Tribe members.
If you missed the ultra-exclusive party at Duddell's and Mercedes me Hong Kong (or just want to re-live the night), catch up on 10 highlights from the night below:
1. The old friends and the new
The night began with dinner at Duddell's, where we spotted power players left and right—some were playing catch-up with old pals, whilst others were quickly getting to know new friends. In attendance were the Generation T 2017 listers, members of the Tatler Tribe, and the Hong Kong Tatler team.
2. Hong Kong Tatler sets the stage
Our Managing Director, Sean Fitzpatrick; head of Generation T, Tamara Lamunière; and Director of VIP Relations Kimberly Hu took to the stage to welcome everyone to the dinner, congratulate everyone on the list and officially launch the 2017 Generation T event.
3. The IWC Pioneers reveal
Next, Goris Verburg, Managing Director of IWC Schaffhausen North East Asia, put the spotlight on five Gen T-listers who were chosen as IWC Pioneers. They included Tony Verb of Metta, Lindsay Jang of Yardbird, Ronin, Sunday's Grocery and Miss Bish, Aaron Lee of Dash Serviced Suites, Wesley Ng of Casetify and Laurel Chor of the Hong Kong Explorers Initiative.
4. The keynote speech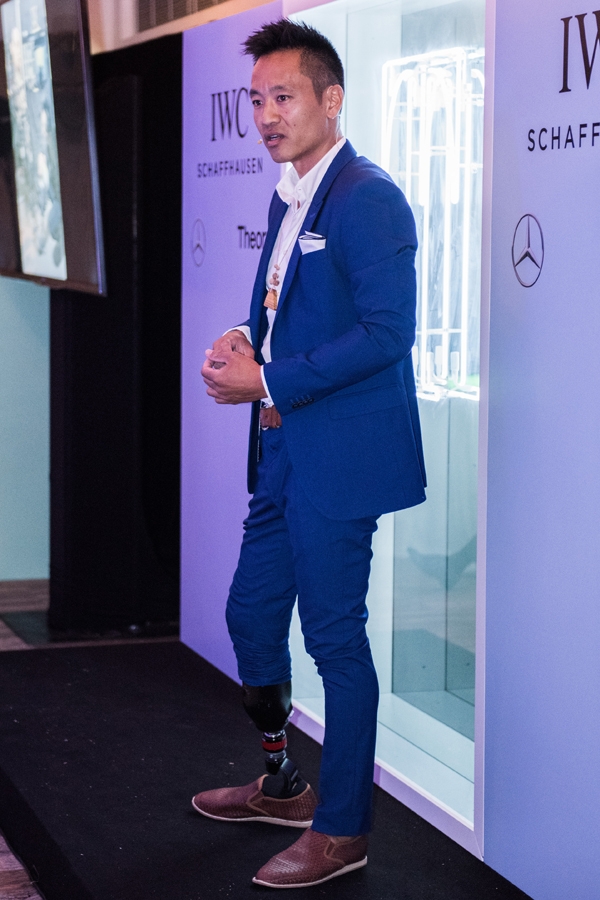 Entrepreneur, scientist and award-winning Explorer of the National Geographic Albert Yu-Min Lin gave an exhilarating speech, inspiring the whole room with his tales of discovering Genghis Khan's tomb and ancient Mayan Temples.
5. The food and drink
You can always expect a delicious meal at Duddell's, and Friday night was no different, with a four-course dinner that included Wagyu beef served with roast duck wrapped in lotus leaf. Special 'Gin T' cocktails were also created just for the event by 2016 Generation T-lister Victoria Chow of The Woods, and served in branded Generation T cans at Mercedes me Hong Kong.
6. The décor
The tables at Duddell's were illuminated by neon coloured centrepieces, which our MD Sean Fitzpatrick joked were powered by all the talent in the room. Also, how cool was that infinity mirror stage backdrop and those flower dim sum cages? No, you can't steal our events team.
7. The selfies
You know what they say: pics or it didn't happen. Attendees captured the night with our dedicated hashtag #GenerationT—see all the highlights from the social media stream in our round-up of Tatlergrams captured
8. The black carpet
Why have a red carpet when you can have a black one? Our backdrop outside Mercedes me Hong Kong was another great photo opp for VIPs like Generation T-listers Wesley Ng, Gary Liu and Tatler Tribe member Sean Lee-Davies.
9. The afterparty
The party continued after dinner with a blowout bash of over 250 guests at Mercedes me Hong Kong, complete with a photobooth, special cocktails and plenty of dancing around the Mercedes Red Pig racecar. You know it's a wild one when you can barely see straight.
10. The LIVE coverage
Starting shortly after 9PM, our Director of VIP Relations Kimberly Hu and Society Editor Christian Barlow took to Facebook Live to bring you exclusive access to the #GenerationT after-party.
Braving the packed crowd at Mercedes me Hong Kong, they brought us up close and personal with several Generation T-listers, keynote speaker Albert Lin, and other familiar Tatler faces who were at the party.
See the recap below (including a surprise sideways intro):
Much more than a list, Generation T is a new platform created for Asia's young and dynamic entrepreneurs who will, without a doubt, be the future generation of business leaders. Visit the 2017 Generation T list to get to know the names better, and keep tabs on our Generation T section for more news and updates to come.
NEXT: Take our interactive Generation T quiz to test your knowledge of Asia's growing community of young and dynamic entrepreneurs.
© 2022 Tatler Asia Limited. All rights reserved.