The acclaimed photographer speaks to us about finding inspiration in literature, music, and poetry – and why he'll not be shooting Hong Kong in the same way again 
Photographer and film director Fan Ho launches his latest book as well as a solo exhibition in Hong Kong this month. Well-known for his touching shots of the daily lives of 1960s Hong Kong inhabitants, Ho reveals his sources of inspiration and discusses his new works.
Hong Kong Tatler: Where do you get your inspiration from?

Fan Ho: I don't only get inspiration from photographers. I studied Chinese literature in university. I especially loved Chinese poetry. Many of my photos are influenced by the great masters of poetry in China from a thousand years ago. They have soul. Not only literature gives me inspiration, but also music. I love Brahms' symphonies, and Mahler, and Debussy, and Stravinsky. I love classical music. They give me inspiration, especially during my work in the darkroom.
HKT: Why did you decide to go into the film industry?
FH: At that time, I was only an amateur photographer. I liked to enter salon exhibitions and competitions, but that wasn't practical. So I was suggested to go into the movie business. "You can fulfill both your hope to be an artist and also to earn a living. Fame and fortune," people told me. So I tried my best, first as an actor to learn about movie-making, then as a director.

Fan Ho, Approaching Shadow (1954)
HKT: How was working in film different from doing photography?
FH: At first, I was very naïve and simple-minded. I thought film was just like taking photos, but it was much more complicated. It involves many factors that can affect your work. I've directed nearly 30 films, so I know it involves so many people. You get pressure from so many different directions—the producer, the investors, the budget, the box office. No box office, no director's life. I started as an experimental filmmaker before I became a director. When I made dramas based on famous novels, they were accepted by both the Hong Kong Film Archive and Taiwan Film Archive into their permanent collection, but they failed in the big box office. I didn't want my dream of director to fade away and die, so I accepted the offer of making erotic feature films, and that made me a director who was successful in the box office. This is ironic to me! But my belief in art creation is to try anything.
HKT: Would you photograph Hong Kong today?
FH: Hong Kong is completely different. The cars, buildings, people, hairstyles, their clothes, everything. The cars! No, no, no, no. I have taken colour photographs [of Hong Kong], but it's another style. It doesn't match my old signature style.

Fan Ho, Old Street Kaleidoscope (1955/2011)
HKT: In your newest works, you take your old shots and create digital collages out of them. Can you tell us more about your process?
FH: I'm trying to mix present and past, new and old, reality and dreams; to make my old negatives have a new life. That's why I use modern techniques, for example Photoshop, to digitalise my darkroom experience and to help me combine or superimpose these images, or even borrow from movie techniques and do a montage and mix them together into a fusion. An old, nostalgic feeling mixed with new sensations.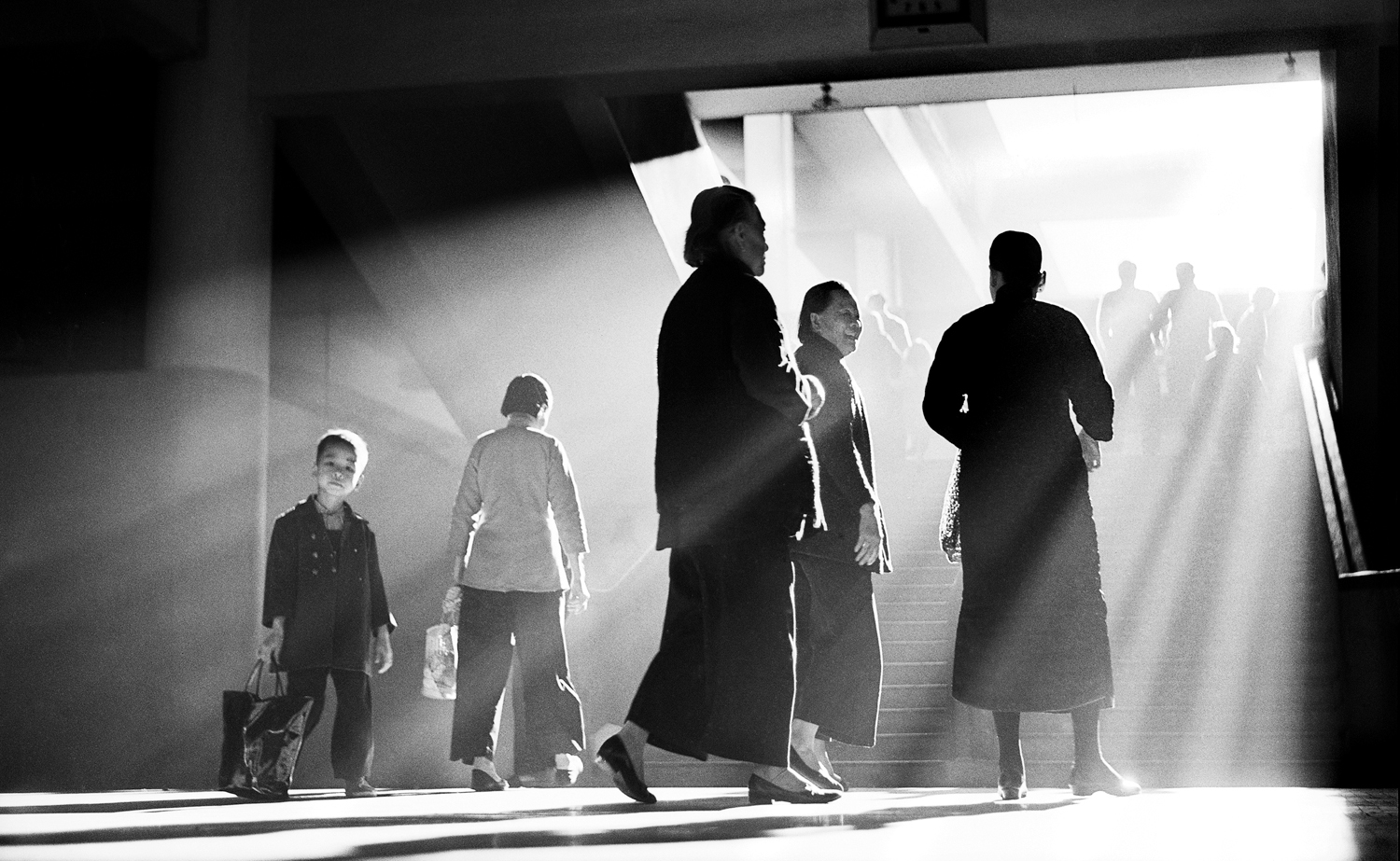 Fan Ho, Afternoon Chat (1959)
HKT: What is one of the works you're most proud of?
FH: Recently, in 2012, [I was named] one of the most influential Asian photographers [by the organisation Invisible Photographers Asia]. They told me it is an honour and that, in Hong Kong, they only gave it to me. There were Japanese, Indian, Chinese, Taiwanese and Malaysian photographers. They chose my Central market picture, the title was Afternoon Chat. They picked this one to represent me for the title, and it also represented Central, Hong Kong.
Ho's exhibition A Hong Kong Memoir shows at AO Vertical Art Space in Chai Wan until January 31. www.aovertical.com