A triplex in Mid-levels with a jaw-dropping view and sleek interior design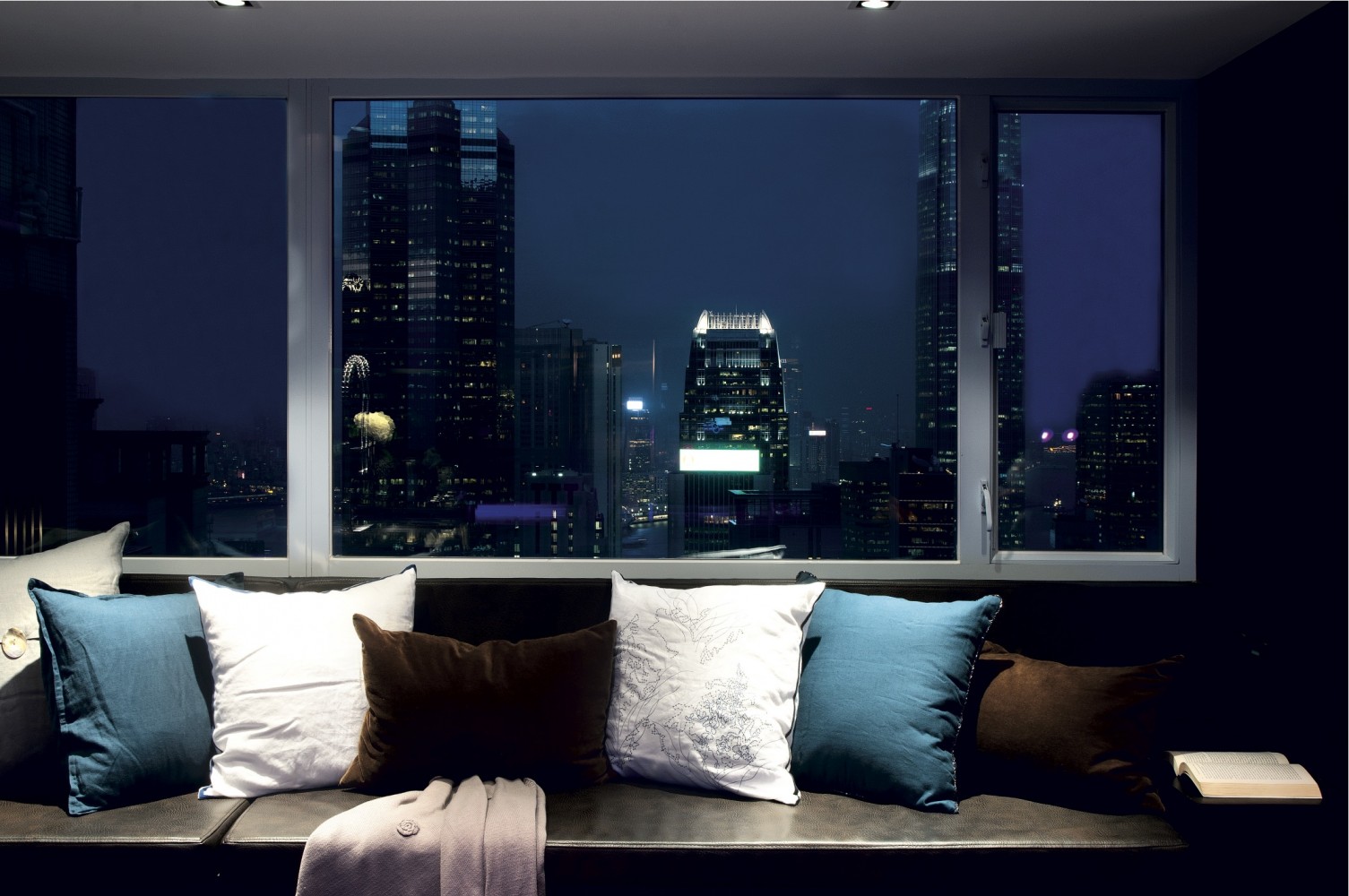 The interiors of this 2,380sqft triplex in Mid-levels may look everything like a bachelor pad should, but with the romantic and jaw-dropping views of Central and a secluded bedroom, it is in fact the love nest of a hardworking young couple.
"[The designer] and I had a similar vision for the apartment," the man of the house explains. "I was thinking of a Manhattan-style penthouse with a view." Cyrus Cheng, the designer, got it right away, coming up with a concept that was modern and masculine yet sexy, while the kitchen and dining rooms are the key successes in Cheng's design.

Initially, this space was proved to be challenging. "It's long and narrow, so we tried to maximise the usable space," says the designer. To begin with, Cheng's team had to forfeit the windows on one side, building in cabinets and utilitarian spaces. But located in Mid-levels means the loss of light was minimal.
Find out how to transform a Hong Kong townhouse into a Parisian home here.
"My girlfriend loves to cook and having a kitchen where we can cook together makes it a lot more fun," says the homeowner. "He enjoys partying and cooking so we did an island-type show kitchen," adds Cheng.

And indeed, this space is ready and waiting for a party. The whole level is decked out in dark hues. Solid hardwood flooring in stained oak sets the tone, while slick black appliances complement the glossy black cabinetry perfectly. Come nightfall, the cabinetry serves a second purpose, reflecting the brightly lit Hong Kong skyline. There is also LED lighting installed under the kitchen countertop that changes colours as the night progresses and gives the feel of a funky bar.
These homeowners like to relax as much as they like to party, so with this in mind, Cheng created "a very enclosed private sleeping area in the bedroom". The space is snug and nest-like. One wall is covered in charcoal-hued, velveteen panels. On each side of the bed, Droog's Milk bottle lamps hang, offering a quirky element in this sophisticated space.

The final floor is another entertaining floor for quieter nights. This was once the rooftop of the building, but with planning permission, the developers turned it into another level, and Chinc's Workshop then transformed it into the sitting room-slash-home cinema it is today. A portion of the roof space still remains, acting as a balcony off this living area.

From top to bottom, this triplex is evidently the pièce de résistance the homeowner was looking for.
We selected some must-have home décor items for this cool weather.