Heather & March Focus
For most people, the word "afternoon tea" conjures up the image of a sumptuous hotel feast, held in collaboration with a fashion house or beauty brand. Intricate as it may look, planning your very own afternoon tea party can be immensely rewarding — and a great opportunity to impress your friends with your lifestyle know-how.
To properly honour the classic British tradition, we consulted Wendy Siu — founder and CEO of home retailer Heather & March and a regular host of these exquisite affairs — to give us the low-down on the seven key elements every host needs for a delightful afternoon tea party.
---
A Full Tea Set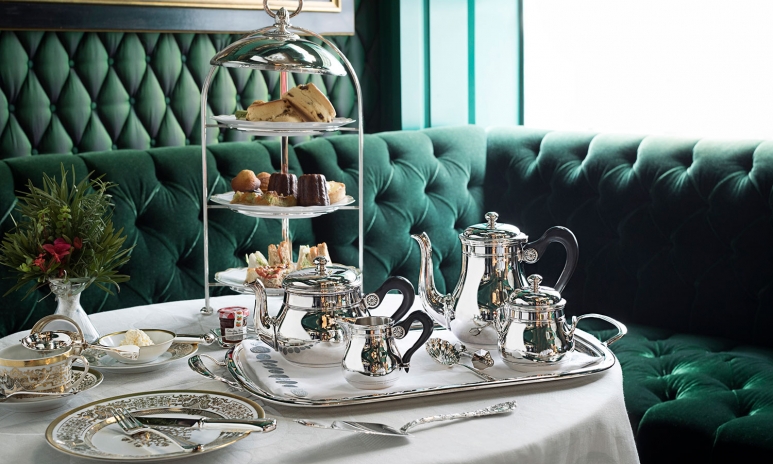 Setting up the spread for an afternoon tea is no small feat. You'll need high-quality appliances that will impress. A teapot, coffee pot, tea strainer and sugar bowl is the basic setup for making your beverage. Present your sweet and savoury treats on a two- or three-tier serving tray, and pass out dessert or cake plates for serving. You'll also need creamer, cake forks and knives or specific cutlery for dessert, and a special butter and jam holder. Have a small linen napkin at the ready for accidental spillages.
"Many people confuse high tea with afternoon tea, which is a big mistake," says Siu. High tea was actually meant to be a heavier meal with meat served on a dining table. This was a practice for servants back in the day, traditionally served at 6 p.m. Afternoon tea — seldomly referred to as "low tea" — should be served on a lower coffee table and not on a regular table. The royals typically enjoy their tea at around 4 p.m.
---
Sweet and Savoury Treats
Afternoon tea is a British tradition, but Wendy has imparted her French flair to her version of the meal. "I prefer to serve a classic British tea menu with must-have items like finger sandwich, scones with clotted cream and jam, quiches, small tea cakes and pastries," says Siu. "However, I spice things up with some of my favorite French treats, like a canelé, financier and madeleine." She suggests adding a bit of caviar to the sandwich or blini for a more lavish touch. Serving macarons — like these delectable options from Pierre Hermé — is another way to add decadence.
---
The Correct Display
Savoury treats are typically consumed first, so the sandwiches should be placed in the lowest tier. Baked goods and cake and other sweets go on the middle and top tray — all are kept in dainty sizes, adhering to the correct etiquette of afternoon tea. Make sure to display clotted cream and jam nearby, so guests can prep their scones with ease.
In the 1800s, scones were placed on the top tier in order for a dome to provide canopy and retain warmth. This is a tradition followed by Siu, though it's also acceptable to put cakes and pastries on top and scones on the second tier. Scones and quiches can be baked in advance and warmed them up in low heat right before serving. Pastries can be served at room temperature or directly from the refrigerator.
---
Hand-Written Invitations
The British don't skimp on formality: the best way to inform your guests about your upcoming fete is the old-fashioned way — a handwritten invitation. Siu stays on theme with stationery featuring tea-related motifs, and personally writes her message of welcome.
The traditional serving time for afternoon tea is 4 p.m., but in modern times, tea time has moved up to as early as 3 p.m.
---
Fine Porcelain
"The use of fine porcelain is really what the origin, history and etiquette of afternoon tea is all about," remarks Siu. "Porcelain with intricate, luxurious and refined motifs usually works well." Opt for cups and saucers with a more classic shape, but delight your guests with wares in intricate motifs and vibrant colours. Heather & March carries a fine selection of porcelain from Raynaud, a legacy brand hailing from Limoges — a region in France renowned for its high-quality porcelain.
Afternoon tea was created by the Duchess of Bedford in the mid-nineteenth century. Since the meal was originally intended for aristocrats, serving with silver and porcelain of the utmost quality is only appropriate. This is the ideal occasion to showcase your finest products and have your guests marvel and their historical background and top workmanship.
---
Tea and Scones
An afternoon tea will be incomplete without tea and scones. "Afternoon tea is the best occasion to experiment with new blends," says Siu. "Like wine pairing, we have to be broad-minded." A traditional black tea goes with classic British treats, such as bacon quiches, cucumber sandwiches and scones. If you're serving pastries with a French twist, an orange tea will pair perfectly with madeleine, financier and macarons. For Siu, her own signature scones — made from scratch and served with clotted cream and jam — are must-haves.
---
Champagne
Offering up some bubbly is a great way to amp up the wow factor. Some hotel establishments serve tea sets with a flute of champagne, where it can be a replacement for tea and coffee if preferred. "Personally, I serve the champagne — like this rosé from Laurent-Perrier — separately during guest arrival, as scones must go with a nice cup of tea." remarks Siu.
---
All products mentioned are available at the Heather & March flagship store, 216-218, Prince's Building, 10 Chater Road, Central. For more aspirational decor ideas, follow Heather & March on Instagram and Facebook.
Photographed by Jonathan Maloney and Inga Beckmann; Styling by Wendy Siu
Special thanks to KEE Club and Pierre Hermé