Five reasons why you shouldn't be afraid of consulting your doctor: Wine, wine, wine, wine, and oh yes – wine!
In the white-hot Poblacion enclave where groovy with-it bars, hipster hole-in-the-wall restaurants and boutique hotels are cropping up left, right and centre, Shanghai's famous (or should we say deliciously infamous) Le Bistro du Dr. Wine has found its sweet sipping spot on Alger St.
Seasoned sommelier and brand ambassador for Grand Cru Bordeaux Shanghai, Vincent Landais is the brilliant mind behind the practice offering a stellar round-up of Old and New World offerings to suit every palate and wallet out there. "If you've been to Dr. Wine in Shanghai, you'll see that we've recreated exactly the same atmosphere over here. Even the trendy music and vibe – we kept it all," said Landais.
The dimly-lit wine bar and restaurant, which just opened last July 23, invites you in with its sultry yet relaxed vibe. The textured wood veneers on all the surfaces were culled from a 100-year-old house in Pampanga. Dr. Wine himself sanded the tables and the pretty hand-picked 350-year-old Machuca tiles suspended from wood panels are a unique albeit chic touch to accentuate the warm tones of the interiors.
Eva, Landais' lovely wife and reason for moving to the Philippines explains that the alfresco rooftop on the third floor will become an intimate lounge for private dinners, parties, wine classes and tasting events. Mirroring Landais' original rooftop Kartel concept in Shanghai (which was voted the People's Choice for the best rooftop bar for four consecutive years), the working title for the space for the time being is "Kartel Manila." An extension of Dr. Wine, "The design will be NY loft-style," says Vincent. Adds Eva, "Kartel will offer more cocktails, beer, etc., and we hope to launch this in a few months."
Chef Julien Lecomte, who previously worked at Café Curieux for three and half years, has, for now, put together a handful of divine cheese and charcuterie platters and nose-to-tail delights such as the Apple Calvados Pork Liver Terrine, the Rustic Country Pâté with green peppercorns, pistachios and Armagnac and the Salmon Rillettes with Nantais butter. "I will be changing the menu in three months and it's going to be much more extensive. Think along the classical French lines of foie gras and duck confit," said Lecomte.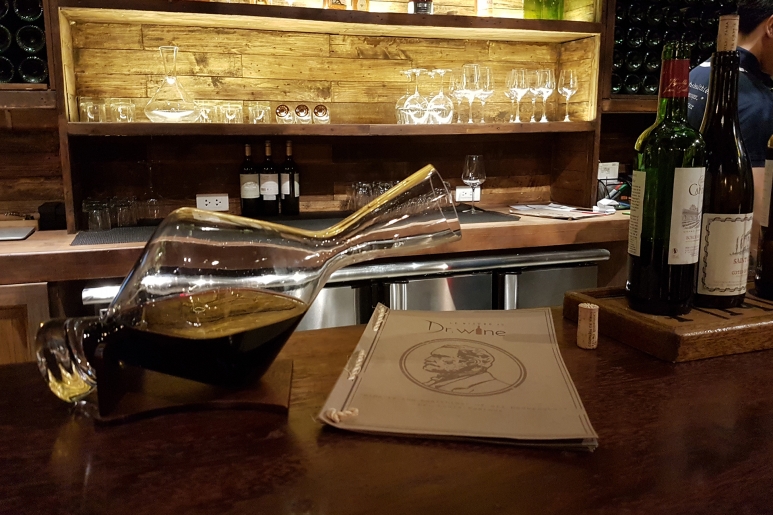 The cellar isn't the only thing that is well-stocked. Whatever your poison, the bar offers all manner of liquors, spirits and beer. Fancy a snifter of Armagnac or a tipple of cognac after dinner? It's all there.
Whoever said one glass of wine a day keeps the doctor away clearly didn't know what he or she was talking about.