5 Reasons to Spend Your Next Weekend in Wong Chuk Hang
Off the beaten track, Wong Chuk Hang reveals a lesser known side of Hong Kong
Often parroted as Hong Kong's most "up-and-coming" neighbourhood, Wong Chuk Hang maintains its relaxed appeal with a number of covert ventures tucked into its many industrial buildings. Contrary to the grungy vibe of the place, there is more to the area than meets the eye—much of the area's charm lies in its ability to inspire a veritable treasure hunt, be it looking for the next surreptitious art gallery or taking an ornery old-fashioned lift up to a rooftop café. The next time you're looking for a break, make your way down south for a city escape with these five things to do.
---
To Appreciate: Art at Spring Workshop
Wong Chuk Hang comprises a significant part of the South Island Cultural District, with a wealth of contemporary art spaces to see and explore. The most prominent of these is Spring Workshop, a cultural initiative created to explore cross-disciplinary art through exhibitions and artist residencies across local and international dialogues. The initiative is in its last of five years; check it out during its exhibitions or for insider information about other art galleries in the area.
3/F Remex Centre, 42 Wong Chuk Hang Road, Aberdeen; tel: + 852 2110 4370; info@springworkshop.org, springworkshop.org
---
To Prospect: Eclectic Homeware at Lane Crawford Studio
Featuring some of the best international designer furniture and light collections, the Lane Crawford One Island South home store and showroom is a cavern of colours and textures. Striking chairs and lamps vie with curiously shaped glassware for attention, while renowned textile brand, Kvadrat takes pride of place in a dedicated corner.
G/F, 2 Heung Yip Road, Wong Chuk Hang; tel: 2118 2288; lanecrawford.com.hk
---
To Train: Enrich at Flex Studio
For those who still haven't fallen off the fitness train, Flex Studio is Hong Kong's leading centre for Pilates, yoga, barre and fitness. Located at One Island South, the studio's flagship is often the site of workshops aimed at learning new techniques and improving one's physical condition. Dedicated instructors collaborate with field experts to bring you the best in fitness coaching.
Shops 308-310, One Island South, 2 Heung Yip Road, Wong Chuk Hang; tel: +852 2813 2212; info@flexhk.com; flexhk.com
---
To Eat: Enjoy at Pomegranate Kitchen
Pomegranate Kitchen is a private kitchen venture that specialises in hosting or catering any event from cooking classes to cocktail parties to fine dining. Creating bespoke menus with fresh and original dishes, they pander to a variety of tastes and cuisines in their two unique venues in Wong Chuk Hang, which include an open plan kitchen and spacious terrace. Be it a full-blown event or intimate meal you're after, they will help you design your perfect experience.
4B, 44 Wong Chuk Hang Road, Aberdeen, Hong Kong; tel: 2580 0663; pomegranate.com.hk
---
To Drink: Unwind at Above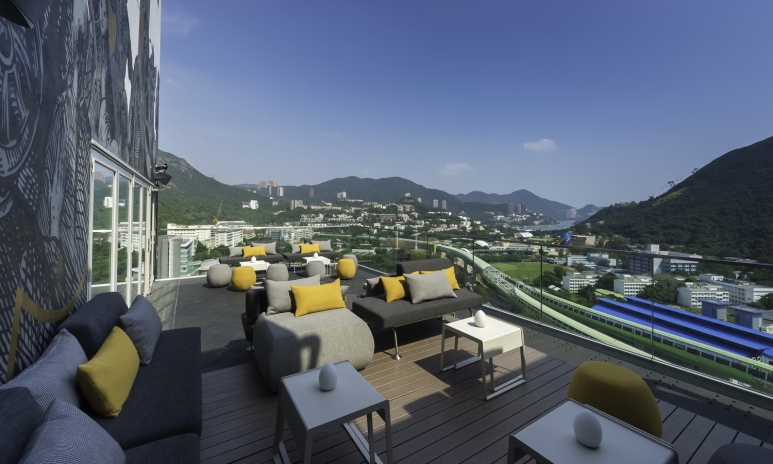 There's nothing like a rooftop view to revitalise the senses and provide a respite, however brief, from the breakneck speed of the city. Any good bar knows full well that the atmosphere of a place is worth almost as much as the contents of your drink, and Above, located on the 23rd floor of Ovolo Southside, delivers with a winning view to complement your Earl Grey Gintini. If it gets late, you can even stay the night in the warehouse-conversion hotel, perfect for a relaxing staycation experience.
23F, 64 Wong Chuk Hang Road; tel: +852 3460 8159; ovolohotels.com.hk
---