JW Marriott's Phu Quoc Hotel Is Larger Than Life
By Rebecca Cairns
Between lilac dawns and fuschia sunsets, nestled beside the turquoise waters and golden sands of the Emerald Bay lies Phu Quoc's newest (and only) luxury five-star international resort. This remote island paradise is enough in itself to make you pause—add to that the pretty pastel palette of quaint European-style buildings, and you begin to wonder if you're dreaming.
The JW Marriott Emerald Bay Phu Quoc is no ordinary luxury resort. It's rare to be surprised in this day and age, but trust us when we say you've never seen anything like this.
Going beyond the traditional holiday resort model, award-winning interior designer and architect Ben Bensley didn't just want to build a hotel; he wanted to create an experience. Bensley was given creative freedom from JW Marriott to spin out his vision, and he created a mythical backstory that encompasses everything from the awe-inspiring architectural design to staff uniforms. When you step into the resort, you enter the fictional world of Lamarck University, a natural sciences school built in 1880.
Read more: Phuket's Ultra Luxury Resort Gets Fancier
Take a tour through the hotel with us and see for yourself:
Location
A 45-minute flight from Ho Chi Minh City, the island of Phu Quoc is hardly remote, but it has all the markers of an isolated island paradise. It's a far cry from the hustle and bustle of Vietnam's metropolitan cities and is largely made up of protected national parks.
Situated on the southern tip, the resort is in a secluded bay with uninterrupted sea views. Although there are no private beaches in Vietnam, the hotel's beach is as close as you can get, given that the only way to really access it is through the hotel.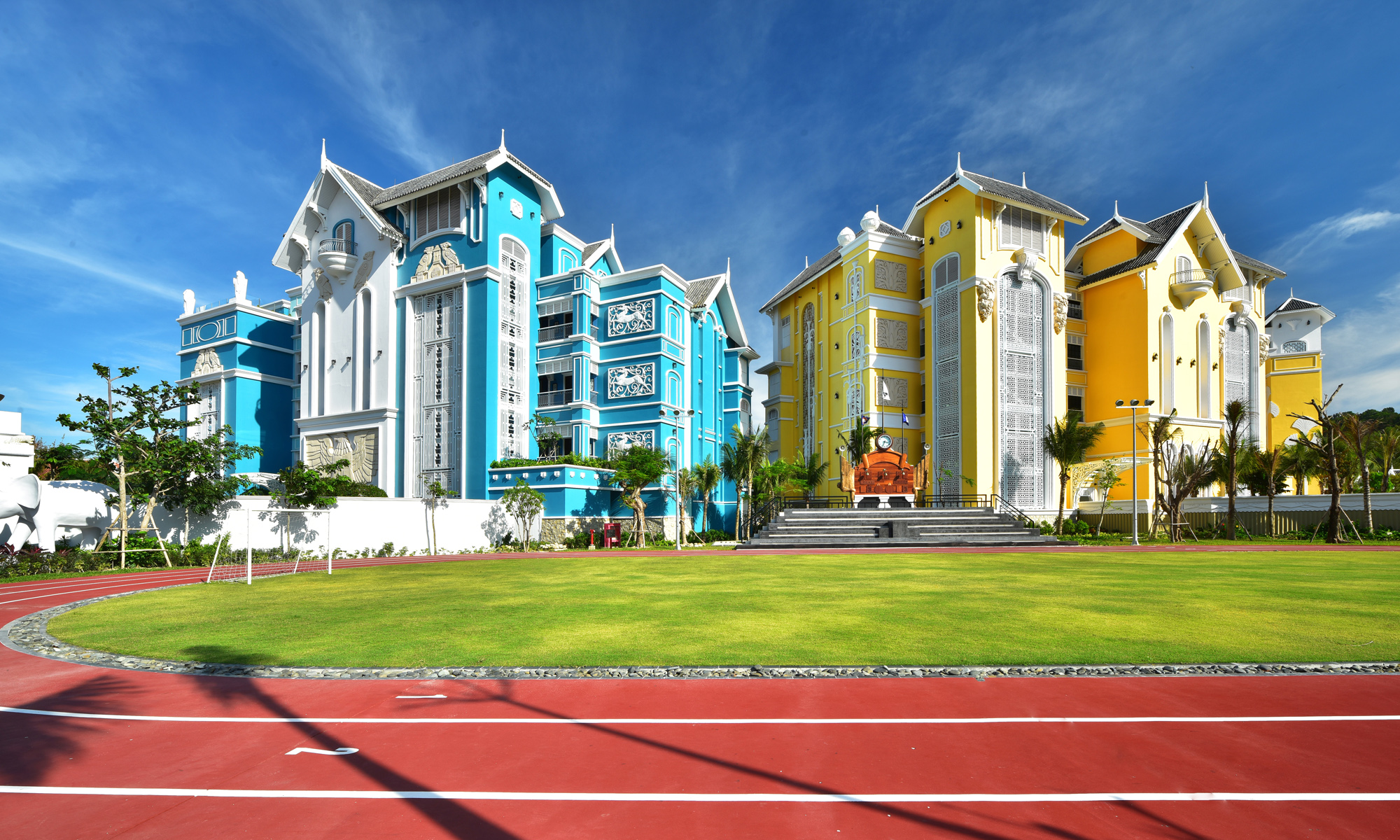 Design
The architecture was built upon the resort's fictional history. From the 'original' Chinese market street, Rue de Lamarck, to the faux Victorian library and Art Deco departments ('converted' into bedrooms, suites and villas), the architectural details make the backstory a reality.
See also: St. Regis Shanghai Is Your Next City Escape
Bensley pays careful attention to natural illumination, with floor-to-ceiling windows, skylights and high ceilings that create space and light. Everything is one-and-a-half times the size it should be: larger than life, but not obscene or obvious, which adds to the feeling of being somewhere between reality and the fantastical.
Once you embrace the university backstory, the theme throughout the hotel is tastefully presented. The accommodation focuses on university departments: zoology, conchology, astronomy, herpetology, ornithology, and so on.
It's the subtle details that bring out the themes: photos of primatologist Jane Goodall, study sketches of mammals, antler chandeliers and animal print finishings that decorate the zoology department.
The theme is continued in the common spaces: restaurant Tempus Fugit is the Department of Architecture, with building plans on the table tops, while the Department of Chemistry, a bar, serves cocktails in test tubes and beakers, and features a stunning mural of the periodic table in its ceiling dome: everywhere you look, there's a new detail you didn't notice before.
Rooms
The 244 rooms and suites are more than just themed novelties: they're also designed for relaxation. Every room has a private balcony with sea views, while the private villas feature their own pool and bar. All of them are uniquely designed, with much of the furniture customised for each room's story.
Read more: 5 Independent Luxury Hotels To Visit In 2017
What looks like a vintage sideboard is actually a custom-made set of drawers complete with a hidden mini fridge and whisky bar. It's when you add up the number of unique decorations in this resort that you start to realise the extent of Bensley's creative vision.
Spa
The hotel is also home to three pools, a 24-hour gym, a small running track, and of course, a spa. The Chanterelle spa plays on themes from Alice in Wonderland, with an uneven hallway of arches, checkered floors, study sketches of mushrooms and Victorian furnishings all adding to the effect.
The organic Hue facial is a particularly wonderful treatment, and the experienced staff are on hand to advise and personalise the service for you.
Activities
It's a university, so naturally, the place is bursting with activity at all hours. A weekly schedule featuring everything from bike tours and yoga to cooking classes and craft workshops will keep you busy. Floating on crystal-clear waters during the surfboard yoga session at sunrise is an indulgent and relaxing experience, and the lantern workshop is a great way to explore local Vietnamese culture.
Dining
The resort boasts four (soon to be five) restaurants: Red Rum, the beach-side grill that specialises in the freshest seafood; Tempus Fugit, an east-meets-west restaurant that serves as much international cuisine as it does Vietnamese; The Department of Chemistry, a cocktail bar with a delicious Mediterranean menu; French & Co, a cafe-style bistro serving up Vietnamese-French cuisine with an incredibly fresh bakery; and the soon-to-open Pink Pearl, a Cantonese restaurant. You'll be spoilt for choice with every meal.
Verdict
Containing the international service and grandeur expected of a JW Marriott hotel, Emerald Bay Phu Quoc goes one step further, providing luxury not only in material things, but in a unique experience. If you're searching for more than silver service, put it top of your destination bucket list.
Sign up to our weekly newsletter for more top tatler_stories delivered straight to your inbox.
See also: 48 Hours Of Khmer Cuisine And Temple Hopping In Siem Reap