Ronald Ventura's ongoing exhibition, Shadow Forest: Encounters and Explorations, at the Metropolitan Museum of Manila went offsite at Art Fair Philippines 2017 and featured few of his works including the main installation entitled, "Waves".
"Waves" is a large boat sculpture made of fiberglass, wood and metal, illuminated by projections of crashing waves and is protectively placed inside a dark room with a glass window for viewing. Inspired by the Philippine pre-colonial artefact Manunggul Jar, "Waves" alludes to the competing forces at play in contemporary life, the push and pulls in migration, and the struggles that relocation bring forth amid the bigger challenge to survive and keep afloat.
During the opening of his exhibition at The Met, Ventura shared that he relates this piece to the Filipino struggle of "push-pull motion in life". The piece delves into the concept of man struggling in his journey to keep survive in life, and his dissent to leave the past behind as he transitions to the future. It also explores the diaspora of the Filipino people, the difficult consequences of such choices and its impact to today's culture. It examines the country's dynamic political arena and the current generation's view on this. As viewers get to see the boat from afar through a glass window, it gives a glimpse of something hidden deep down that has been raging and cannot be further contained. It poses danger and yet the viewer is too far and powerless to help.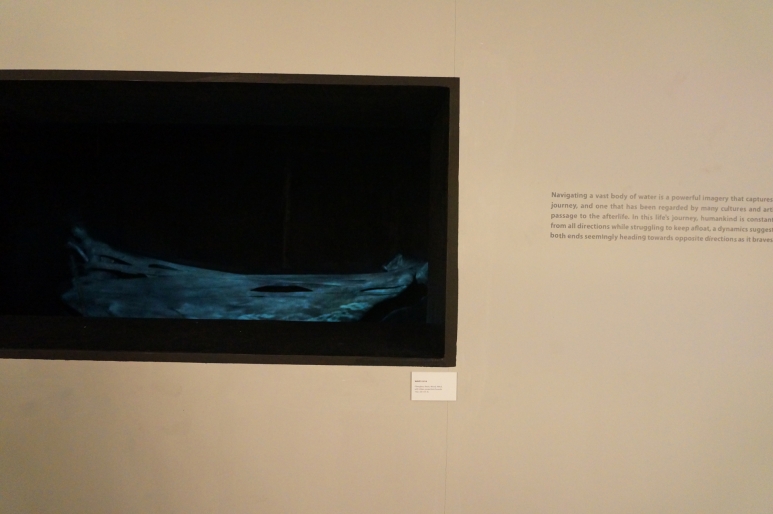 Looking at it for the first time evokes a melancholic introspection of life—the choices we made in the past, the things that bind us in the present, the dillema of which path to tread to reach a long-term goal. As water symbolises life, the eerie effect of being consumed by the piece was achieved by the haunting sounds of crashing waves playing on the background and a projection of a mute-coloured video of waves violently crashing on a rocky river. It depicts fast movement just as much as how we spend each day of our lives—fast-paced, volatile, driven towards what is temporarily gratifying. Contradictingly, our speed leads us nowhere.
However, Ventura sparks hope in his latest magnum opus through the alluring reflection of waves that illumines the boat. Although it shows violent movements in contrast to the immobile boat, it reminds us to be fluid in motion, carve a new path, swim against the tide of inhumane society, and continue to be resilient to life's adversities.
Besides the ubiquitous question of who are we as Filipino, Ventura's masterpiece asks which direction are we headed as a nation in this dire time of significant changes. It revisits our belief to the afterlife brought by the Manunggul Jar and allows us to relate this to the contemporary times.
Ventura's solo exhibition at The Met is open to the public until March 4.