A mainstay of the global contemporary art scene and the foremost champion of Asia's own creativity, Art Basel in Hong Kong returns next month with a programme that's as vibrant as it's innovative.
See also: Wing Shya's New Exhibition Will Give You The Feels
A plethora of international and domestic galleries will present works in the established categories, such as Discoveries (emerging artists) and Encounters (large-scale installations), but also, for the first time, in Kabinett, with specially curated projects displayed in separate areas of galleries' booths, ranging from one-person shows to thematic group exhibitions and films.
We take a sneak preview at some of the exciting items on show at Art Basel in Hong Kong:
---
Galerie Nächst St Stephan: Bernard Frize
Among Gallery Nächst's exhibits, four works by French painter Bernard Frize are perhaps most captivating in their variety. Frize is known for using a multitude of materials and techniques, each of his creations a layered composition derived from elaborately constructed rules and carefully choreographed acts of painting.
The pieces on show are reflective of this practice; from wide brushes to geometric grid patterns, they reference minimalism, abstract expressionism and colour field painting, for a truly eclectic approach to art.
---
Yamamoto Gendai: Nauhiro Ukawa and Nicolas Buffe
Naohiro Ukawa's video installation—DJ John Cage & 1000 Worldwide DJs—is the presentation's pièce de résistance. It consists of more than 1,000 videos of international DJs playing at Dommune, the underground studio and streaming channel, led by Ukawa.
Another must-see is Tokyo transplant Nicolas Buffe's Wall Drawing, a black-and-white wall-sized illustration that playfully appropriates classical references, pop culture and even anime to create a hybrid world defined by the grotesque.
---
Gagosian Gallery: Katharina Grosse
A heavyweight in contemporary and modern art, the gallery will showcase the work of German artist Katharina Grosse, who is known for large and colourful installations that explore how abstract painting functions in a three-dimensional field.
Based on Grosse's project for the 2015 Venice Biennale, All the World's Futures, but specifically developed for the Encounters section, Untitled Trumpet features seven medium-sized aluminium sculptures installed directly onto the floor to create a forest-like environment in which the viewer is invited to move around—a painterly world that moves beyond canvases.
---
Esther Schipper: Ugo Rondinone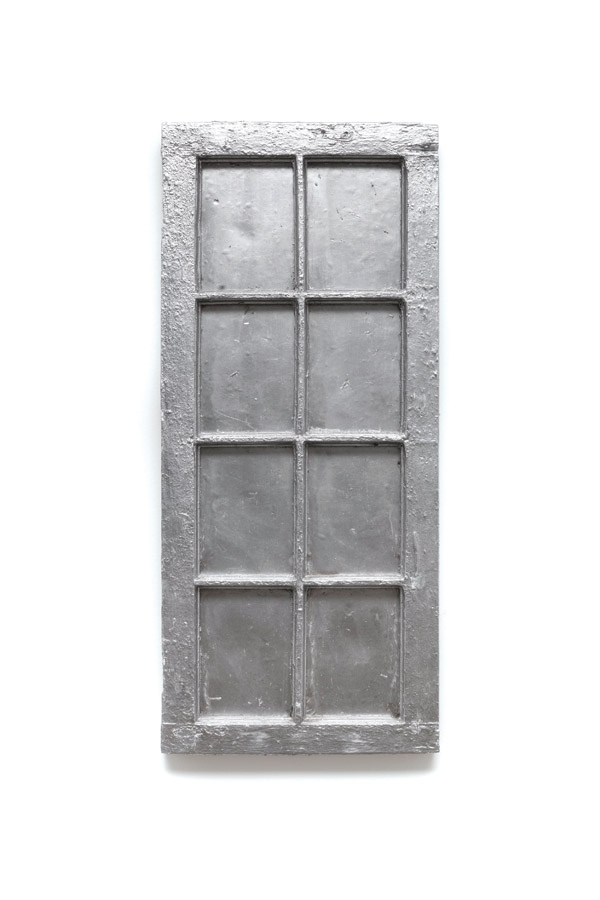 Ugo Rondinone's work is as mystical as it is rooted in the everyday. Occupying himself with the boundaries between fiction and reality, the Swiss-born mixed-media artist boasts an eclectic portfolio spanning installations, large-scale drawings and psychedelic paintings that combine childlike colours and shapes with technical wizardry.
Rondinone's windows—a recurring motif in his work since the 1990s—play on the combination of familiar and strange. Cast from weathered window frames in aluminium, giving them a distant, ghost-like effect, they become objects to be looked at, rather than framing a view to the outside.
---
Clearing: Calvin Marcus
A first look at TBT, a Calvin Marcus work to be shown by Clearing gallery, might have you think you're staring at a patch of grass. Such is the immediacy of the painting's strokes, homage to both the abstract expressionists of 1940s America, and Birds and Wild Grass, a famous 16th-century Japanese folding screen the Los Angeles-based artist saw in the Los Angeles County Museum of Art collection.
Marcus deftly employs a wide range of materials and techniques—from drawing to oil painting, ceramics and metalwork—to create an artistic practice that is both inventive and highly referential. TBT does so brilliantly and through a refreshingly accessible style. Quite the achievement for an artist who is only 28.
---
König Galerie x 303 Gallery and Kamel Mennour: Alicja Kwade
Can an installation help to examine (if not resolve) the subjectivity of space and time? Alicja Kwade believes so. The Berlin-based artist has long been engaged with value systems and the perceptions and physical experiences of time, space and reality, which she explores through large-scale sculptures featuring everyday objects such as clocks, mirrors, copper and lights.
Premiering at Art Basel in Hong Kong, the six-metre-long Time Zone Sculpture consists of 26 beam elements placed on top of each other and fixed by bolts or welds to act as a bench, probing the way the material world tethers to the extended concept of reality.
---
Lin & Lin Gallery: Wu Dayu and Yan Hsia
New generation artists Liu Wei and Liu Shih-tung present incredibly endearing works, but it's the two pieces by senior masters Yan Hsia and Wu Dayu, Three Two Frogs Have a Great Life (above), and Untitled, respectively, that truly beguile the eye for their striking exploration of vibrant colours, mixed materials and abstract shapes.
---
Edouard Malingue Gallery: Wang Wei
Slipping Mural 2, a floor-based installation brought to the Encounters section by the Hong Kong-based Edouard Malingue Gallery, follows the artist's interest in creating immersive settings that are not so much artworks but vehicles for situating artifice in the context of life.
As such, the piece decontextualises the concept of what a mural might be and the spatial boundaries between the work and the viewer, giving way to new layers of meaning.
---
Gallery Exit: Xue Feng
The gallery brings works by Chinese artist Xue Feng, who has made a name for injecting new life into landscape painting through bright nature scenes bulging with vegetation and 3D illusions exploring the gap between reality and imagination, perception and deception.
Transform-13 could be described as a florid milieu with a metaphysical twist. A floral and leaf pattern is etched in a startling colour palette across the canvas, creating different layers of space—as if we were looking at a lush woodland. But the door in the middle of the scene turns the perspective upside down: Are we at the edge of a forest, or just in a room where nature forms one of the walls?
---
Imura Art Gallery: Sadaharu Horio
Born in 1939 in Kobe, Sadaharu Horio is often considered the most important Japanese artist of his generation. He is also referred to as one of Japan's most experimental visionaries of the 20th century, a pioneer in modern Kobe performance art, and the founding member of the 1960s avant-garde Gutai art group.
During this year's fair, Horio has his own solo booth with Imura Art Gallery, and you must stop by to visit. On display are his works titled Atarimae-No-Koto 3kg Paintings, made by combining discarded iron pieces that rigorously weigh no more than three kilos. The works represent both Horio's everyday and his art, all the while expressing the idea of 'Atarimae-No-Koto' ("matter of course").
---
Running from March 23 to 25, Art Basel in Hong Kong promises to be an exciting showcase of leading and emerging artists, with more than 240 galleries from 34 countries represented.
For more information, visit artbasel.com/hong-kong.

See also: Is The Digital Age Killing Art?